Giampaolo Pazzini produces one of the all-time great debuts (Inter Milan-Palermo)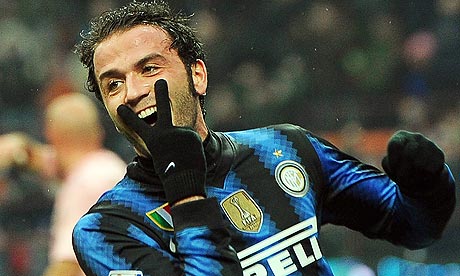 There have been some good debuts over the years. Wayne Rooney's three-goal haul for Manchester United in the Champions League and Alvaro Recoba's brace on his Inter Milan debut are just two to come to mind.
Yesterday, Giampaolo Pazzini produced a first game to rival both Rooney in the all-time stakes and Recoba for the Nerazzurri as he turned the Serie A match with Palermo almost single handedly.
As Paolo Bandini notes in The Guardian, Pazzini acknowledged afterwards that even he had never have dared to imagine that things could start so well – 'Not even in my wildest dreams'."
Trailing 2-0 at half-time, Pazzini was introduced just two days after signing for the world champions. The former Fiorentina and Sampdoria striker scored within 11 minutes of coming on, with a trademark shot on the turn.
On 72, Pazzini rose highest to a Maicon free-kick to head home the equaliser and to complete an incredible performance and the turnaround he won the penalty that three minutes later was converted by Samuel Eto'o.
Giampaolo Pazzini's individual highlights v Palermo are on this video.
Related video link: Highlights of Inter Milan 3 – Palermo 2.
Click here for more Premier League betting tips
---