Genoa's Daniele Portanova gets a colourful set of stick men tattoos marking all the teams he's played for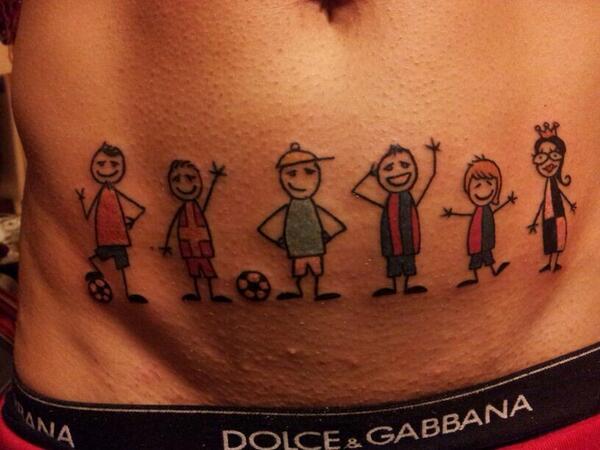 What is it with Italians are madcap tattoos?
Over the past few years we've seen a handful of Calcio star unveil tattoos that are a little more creative than the usual garbage most people ink on their bodies.
Daniele De Rossi famously has a tattoo on his leg showing his tough-tackling tendencies, while Alberto Gilardino put a Peppa Pig tattoo on his bicep.
Now Genoa's Daniele Portanova has unveiled his latest creation across his midriff, in which the 35-year-old defender has also incorporated a colourful and child-like design into his artwork.
Using lovable stick men figures, Portanova has six tattoos recalling all six clubs the player has featured for during his career. Those clubs are Fermana, Messina, Napoli, Bologna, Genoa, Siena.
Eurosport have also noted that "what is not entirely clear is why one of the caricatures is of a woman with a crown on her head or why one of the men is wearing a cap while playing football—but hey, a touch of creative license is surely to be allowed."
See Daniele Portanova's tattoo above, while Daniele De Rossi and Alberto Gilardino's tattoos can be enjoyed below.
---