Gary Neville Tweets why he felt Matt Jarvis should have dived for West Ham at Arsenal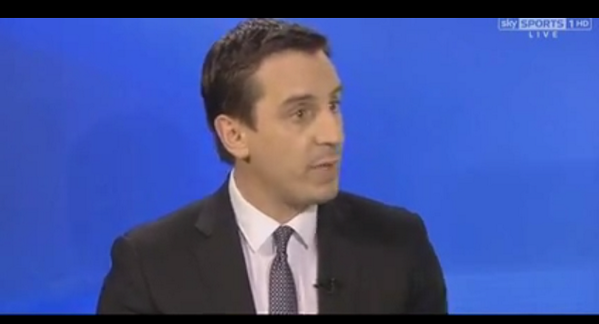 Gary Neville was adamant on Sky Sports last night.
The former Manchester United defender argued that Matt Jarvis should have dived when fouled by Bacary Sagna.
In a rare show of Premier League sportsmanship, Jarvis stayed on his feet and only stumbled when caught by Sagna in the box and referee Kevin Friend waved play on.
Neville, arguably the best pundit around, was adamant Jarvis should have gone down and Paul Merson also agreed with the former England full back.
During his nearly two seasons of punditry now, Gary Neville has been consistent with his opinion on diving in the modern game.
Essentially, its part of professional football, no other country on the planet frowns upon it like in the UK and the sooner English players learn to go down when touched, the better for everyone.
Presumably, as an England coach, G Nev will continue this line of thinking during the summer at the World Cup.
Gary Neville's Twitter comments on diving can be seen below.
Diving all over my timeline again today! All professional players have gone to ground to win a free kick or pen. Happens 20 times a game!

— Gary Neville (@GNev2) April 16, 2014
Would be happy for it to stop but you need to understand the global culture to be able to understand how hard that would be! Sad but true

— Gary Neville (@GNev2) April 16, 2014
"@pmcp21: have you ever, Gary Yes I won free kicks shepherding the ball out/ going for headers and pens! Didn't as a kid but changed !

— Gary Neville (@GNev2) April 16, 2014
"@johnbennett80: ! But surely your job as a pundit is to promote fair play in the game.!!" No. My job is to give you reality and insight

— Gary Neville (@GNev2) April 16, 2014
"@KennySansom3: @GNev2 that's true but still frustrating for fans of the opposing teams to watch, understandably so." Agreed Kenny

— Gary Neville (@GNev2) April 16, 2014
"@RedDevilsOT: @GNev2 How many dives you expecting during todays Copa Del Rey final?" Plenty!

— Gary Neville (@GNev2) April 16, 2014
---