Gary Neville Tweets about the shock at Old Trafford when Nani was sent off
With Manchester United's defeat to Real Madrid televised on ITV, it was left to the likes of Roy Keane, Gareth Southgate and Lee Dixon to decipher the decision to send off Nani by Turkish referee Cuneyt Cakir.
Pundit extraordinaire Gary Neville meanwhile was in the stands at Old Trafford and we had to wait until early Wednesday morning for the former Manchester United right back to Tweet his thoughts.
As ever, Neville took a slightly different angle, describing the shock from Manchester United supporters when Nani received his marching orders.
Gary Neville's Tweets are below.
Followed by a picture of the incident Neville references between Nemanja Vidic and Diego Lopez in the first half of Manchester United 1 – Real Madrid 2.
Morning all. Been going to OT since age of 5 and I've never seen the whole ground as in disbelief as they were last night at a decision!

— G.Neville (@GNev2) March 6, 2013
Nani is a player who regularly tries to control a pass like this over his shoulder and its never a red card! Changed the whole game!Poor ref

— G.Neville (@GNev2) March 6, 2013
The crowd actually weren't angry / weren't shouting they were just open mouthed and in shock!

— G.Neville (@GNev2) March 6, 2013
The Madrid keeper on Vidic looked a similar type of incident.

— G.Neville (@GNev2) March 6, 2013
Anyway it won't be the first time or last! Just ruined a fascinating match and didn't feel right to Utd or Madrid people in the stadium!

— G.Neville (@GNev2) March 6, 2013
"@mandisi87: I don't understanding @gnev2 argument about the redcardIt's not an argument it's an opinion!Not a red he's trying to control

— G.Neville (@GNev2) March 6, 2013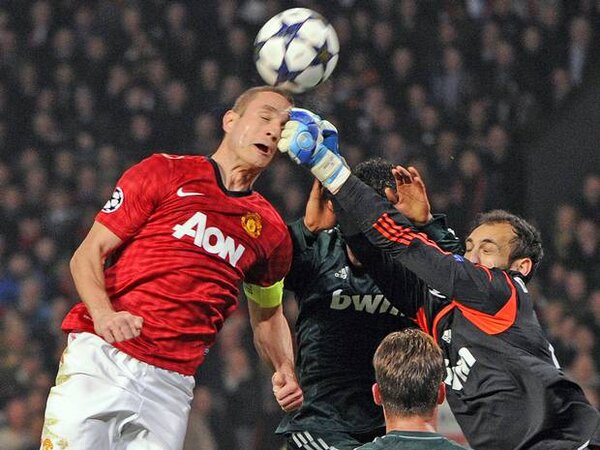 ---