Gary Neville says it's time to realise that Arsenal are "the real thing" after winning at Dortmund [Post match analysis]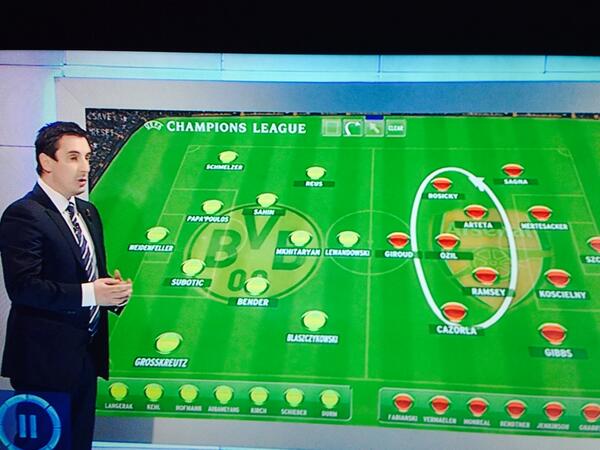 Like all the Arsenal fans on Wednesday night, the talking heads on Sky Sports couldn't help themselves from waxing lyrical about the Wenger Boys.
Jamie Redknapp was the first pundit to give his reaction to the Gunners incredible win against Borussia, kicking off his analysis saying Arsenal deserved the win "without doubt".
To put that result into context, this is a side in Dortmund that blew teams away last year. They were going to Real Madrid where they were absolutely magnificent. They tore them apart. 
Arsenal made [Dortmund] look distinctly average. That's probably the greatest credit I can give them. In the second half they had opportunities. The way Arsene Wenger has his team defending, it's fantastic. I've never seen Lewandowski so quiet… They've got a match winner in Aaron Ramsey.
Then it was the turn of Gary Neville to share his thoughts, starting with praise for the Gunners defensive unit.
They were really organised. You've got to remember that this is a team which is now keeping clean sheets now, looking organised, which we've lambasted over the past few years. These are the same players. Ozil doesn't actually add anything to them from a defensive structure. So what they've got are the same players just performing to their standards. 
We've always stopped short of saying this is the real thing with Arsenal, and I think rightly so… I think we're at the stage now. All the questions are being answered. They go to Old Trafford on Sunday. If they get through that, then you'd say they've come through that period that everyone said they'd fail in.
Watch Jamie Redknapp and Gary Neville's analysis on Arsenal after the win in Dortmund below.
---