Gary Neville during Chelsea 0 – Spurs 0: "Ramires went in with his Shuds Stowing"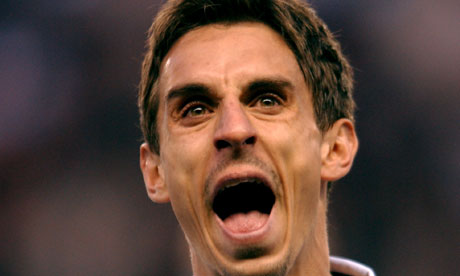 There were few highlights during the first half of Chelsea's 0-0 Saturday lunchtime draw with Tottenham so it was left to Sky Sports commentary pair Martin Tyler and Gary Neville to enliven proceedings.
After a tussle between Chelsea midfielder Ramires and Spurs striker Emmanuel Adebayor, Gary Neville came out with the amusing line that the Brazilian "went in with his Shuds Stowing."
The former Manchester United defender quickly giggled at his own mistake and Martin Tyler correctly predicted that G Nev would be "trending" as #shudsstowing quickly became a popular hash tag on Twitter.
Later on Saturday Neville Tweeted: "Back on the train with my speech therapist."
Gary Neville's commentary gaffe can be heard here.
***
The other amusing moment of an unforgettable match came when Rafael van der Vaart took one referee's decision particularly badly and fell on his bum during his complaining.
Best football betting tips & free bet offers
Click here for more Premier League betting tips
---