Gareth Bale was hit with a spoof speeding ticket after his golazo v Barcelona in the Copa Del Rey final
A quality joke has been spreading around like wildfire on social networks following Real Madrid's 2-1 win over Barcelona in the Copa Del Rey final this week.
The match was settled by a stunning solo golazo from former Tottenham star Gareth Bale, as the 100 million man took the long route around Barca defender Marc Bartra to score one of the finest goals of his career to date.
Following Bale's blistering individual special against the Catalans, an image has been going viral online of a fake speeding ticket which has been served to the Welsh wizard.
The ticket, issued by the Valencia police, was complete with some excellent comedy information, including the following:
License plate: 11
Class: Much
Make: And scores (In Spanish "marca" can translate both to "make [of car]" and "he scores"
Model: No, not at the moment
See the spoof speeding ticket below.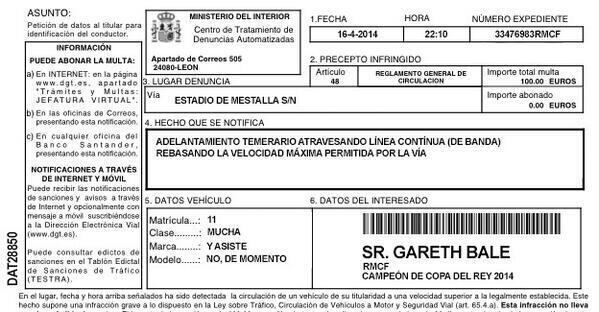 Click here for more Premier League betting tips
---