Gareth Bale was changing his boots when Sevilla scored second goal, slammed in Madrid press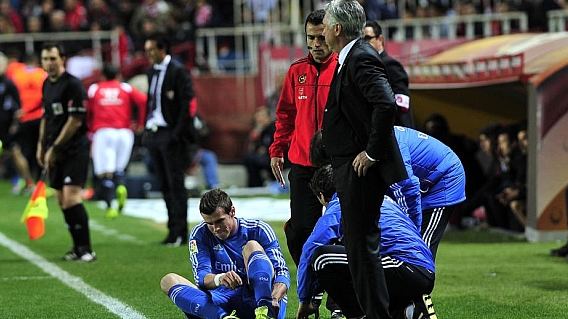 Not only did Gareth Bale have to deal with the wrath of Cristiano Ronaldo in the final few seconds of Real Madrid's potentially La Liga defining defeat to Sevilla on Wednesday evening but the Welsh forward is also the target of criticism from the Madrid press this morning.
Gareth Bale was changing his boots on the sideline when Sevilla scored their second goal on 72 minutes.
Whilst the home side replaced Marko Marin with Vitolo, Bale ran over to the sideline and replaced his footwear.
The former Spurs forward has been wearing the garish Adidas Crazylight boots for the past couple of games and this could well be a bit of a PR disaster for the sportswear company.
Bale failed to shine in El Clasico and now the boots are being blamed for a crucial defeat in the La Liga title race.
Whilst Bale was off changing his boots, Sevilla played the ball down their left side, where Bale would have been, before Ivan Rakitic then embarrassed Pepe with some glorious skill before playing in Carlos Bacca for the winner and his second.
AS have even timed it all, with Bale leaving the pitch with 25:34 played in the second half. Bacca's goal was timed at 26:53.
It seems highly unlikely that Bale could have done anything about Sevilla's winner by the Madrid media are blaming him for being off the pitch "at the moment Real Madrid started losing La Liga."
Gareth Bale's fairly underwhelming individual display against Sevilla is on the video below. He runs off to change his boots at 2:22 on the clip.
---