Gareth Bale tormented Rayo's Anaitz Arbilla so badly the defender was left in tears after he was subbed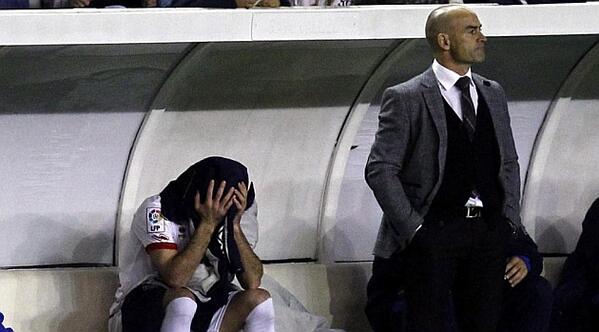 Rayo Vallaceno's left back Anaitz Arbilla was in pieces when he was hauled off the pitch against Real Madrid on Saturday night.
After Real stormed into a 3-0 lead at the start of the second half, Rayo's fall-guy was their 26-year-old defender Arbilla.
Arbilla's job on the night was to try and contain Gareth Bale, who was deployed down the right hand side for Madrid, however the Rayo full-back failed miserably in his task as Bale set up goals for Karim Benzema and Cristiano Ronaldo either side of the break.
Having failed to do his job successfully, Arbilla was distraught when he was eventually removed from the pitch.
After heading off to the bench, a tearful Arbilla cloaked his face in a coat as the defender bawled his eyes out on the sidelines. It was all rather sad.
Watch Gareth Bale leave Rayo's Anaitz Arbilla in tears below, while Bale's individual highlights can be seen below also.
---
GAMBLING CAN BE ADDICTIVE, PLEASE PLAY RESPONSIBLY