Gabby Logan meets Manchester United's Ryan Giggs & Gary Neville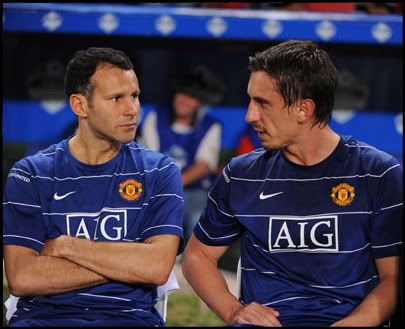 Last week the BBC arranged a brilliant interview seeing Gabby Logan meet Manchester United's elder statesmen Ryan Giggs and Gary Neville to review their incredible playing careers.
The pair started off by reaffirming the clubs' mantra that it is all about winning trophies, before reflecting on the fact that they only have a few more seasons left to achieve at Old Trafford.
Neville admitted he is feeling his age a lot more these days, before the number two talked about watching Ryan Giggs emerge as the 90s poster-child of their generation. Giggs' boasted about how he loved life at 18, playing for the first team, the celebrity lifestyle and dealing with Alex Ferguson's harsh managerial style. Neville confessed that he feared Sir Alex at the start of his career, reminiscing about how the youth team got the hairdryer treatment after losing the Youth Cup final.
The duo then talked about assuming the responsibly of leading the team, just as the likes of Steve Bruce, Gary Pallister and Bryan Robson had done when they were kids. And the one-on-one ended with a look towards the future and moving on from Manchester United, with Neville observing that having been at the top for his entire career it may be difficult to experience a world outside the Red Devils.
The excellent interview can be seen here.
---