Full striker statistics of Liverpool, Man City, Arsenal and Chelsea make for interesting reading [Picture]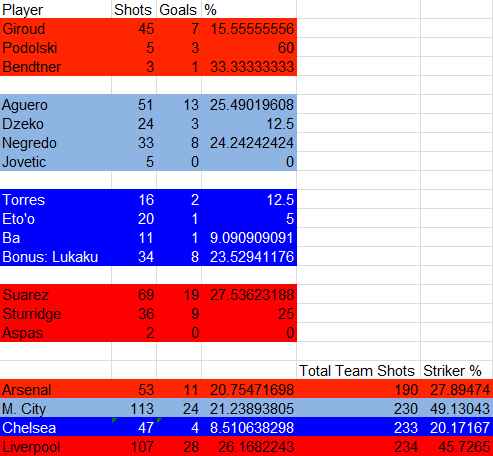 Some interesting statistics of the strikers of the top 4 Premier League clubs have been produced.
Their shot to goal conversion rate is the important statistic and Chelsea's striker stick out like a sore thumb.
Suarez, Aguero and Negredo lead the line for chance conversion with all three of the Chelsea strikers lagging way behind.
Interestingly, Romelu Lukaku has a % rate to match the top strikers in the league, but he's been to sent on loan to Everton.
The best statistic here? Nicklas Bendtner has the best shot to goal conversion rate, scoring one of his three attempts.
---