Footage emerges of Norwich striker Grant Holt scoring at Wembley aged 11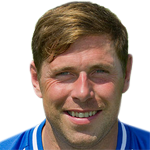 Much like when we uncovered the clip of Emile Heskey on the Rod Hull and Emu show, there is something fascinating about seeing modern footballers when they were kids.
The video below was uploaded to YouTube today and features big burly Norwich striker Grant Holt when he was just 11-years-old.
Holt, now 31, has established himself as one of the most feared target men in English football, scoring 15 goals for Norwich in 2011/2012.
Introduced by the legendary front pairing of Saint & Greavsie (wearing ridiculous t-shirts), Holt scores the second goal on the video below with a back post header at Wembley for Inglewood School, Carlisle, against Ixworth School.
Lovely stuff!
[jwplayer config="For-all-videos" mediaid="278833″]
---