Florentino Perez takes another swipe at Arsenal's Mesut Ozil: "He couldn't take the pressure at Madrid"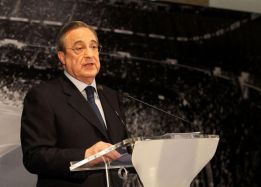 And on it goes, Real Madrid president Florentino Perez has continued his war of words with Arsenal's most expensive ever signing, Mesut Ozil.
There have been suspicions for a few weeks now that Perez has been sniping at Ozil and planting spurious stories in the European press to cover his own back after selling the German playmaker to Arsenal.
On Thursday, Perez spoke to Real Madrid club members ahead of Sunday's General Assembly at the Spanish giants.
Perez spoke on a wide range of subjects, including Iker Casillas, Gerard Pique, Gareth Bale and Jose Mourinho but arguably held his harshest comments for Ozil.
Saying: "The player asked to leave and nobody here should be upset about it. He couldn't handle the pressure at Madrid."
Arsenal fans revelling in having Ozil at the Emirates, can console themselves with a rather impressive back heel pass GIF from last night's victory at Marseille.
[gthumb id="356000″ size="large" autoplay="1″]
---