FIFA President Sepp Blatter 'surprised' that Lionel Messi won the World Cup Golden Ball [Video]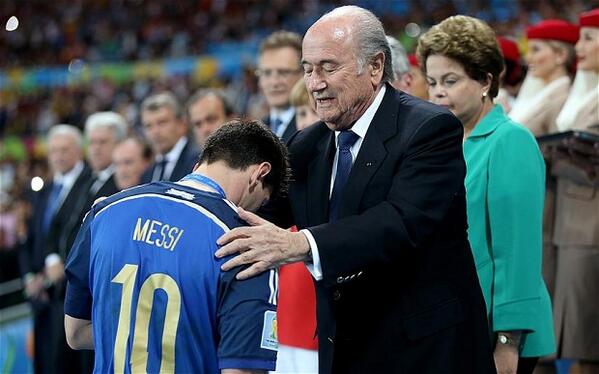 There was a pretty blatant act of corrupt cronyism at play at the World Cup last night, but for once Sepp Blatter can't be accused of any involvement.
There was much stupefication when it emerged that Lionel Messi had won the Player of the Tournament, despite being on the periphery in the final two games.
Many pointed the finger at Adidas the tournament and award sponsor, though it wasn't as simple as that either, with the award being voted for by an independent committee (featuring Gerard Houllier).
Blatter himself expressed his surprise at the awarding of Messi, thereby distancing himself from the voting procedure and any responsibility:
Shall I be diplomatic or tell you the truth?
"I was a little bit surprised when I saw Messi coming up to collect the best player of the competition."
"But if you compare the beginning of the tournament and why the Argentina team got into the final, Messi's goals were decisive.
It can't be said that his goals weren't decisive.'
Video below.
---