Fantasy Premier League tips & predictions: Gameweek 2!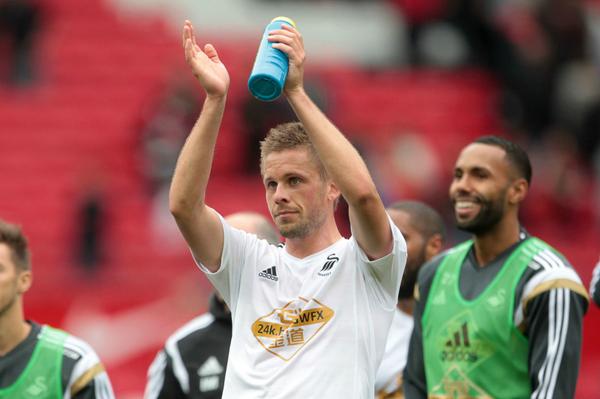 Join the 101 Great Goals league on Fantasy Premier League 2014/2015 with the following code: 15836-5705.
Feel free to ignore any advice below.
My team sucks! I need to wildcard already!
A total of 35 points in Gameweek 1 has left me demoralised and confused.
There are no less than 2,343,821 players ahead of my good self in the Fantasy Premier League game.
I left Gylfi Sigurdsson on the bench!
In the 101 Great Goals league, my team is adrift of the leader by a whopping 55 points.
Woe is me!
Anyway… its a marathon not a sprint and things can only get better. Here are some Fantasy Premier League Gameweek 2 thoughts and predictions!
1. Captain Gylfi? Sigurdsson impressed everyone with a goal and an assist at Old Trafford in the opening game of the Premier League season.
Over 240,000 managers have brought in the Icelandic attacking midfielder and with Swansea facing Burnley at home – don't be surprised to see plenty of teams captain Gylfi.
Burnley's defence is not as bad as Chelsea made them look on Monday night, nevertheless Sigurdsson looked a shrewd buy before the season, now the former Tottenham man appears to be a must have. And, at the time of writing, unsurprisingly, his price is going up
2. Cesc Fabregas the assist king. Another player to make big gains in Gameweek 1, Cesc returned to English football with a brace of assists, the first of which for Andre Schurrle was delightful on the eye.
From his time in English football we know Cesc guarantees assists. This week, Chelsea host Leicester at Stamford Bridge.
More points are inevitable. Jose Mourinho confirmed that his preferred central midfield partnership this season is Fabregas and Matic.
The Barcelona youth product will likely bag many final passes, but the goals will go to Diego Costa and the three behind the Spanish striker. Andre Schurrle at 7.5 looks like a great option.
3. Southampton's easy run. Ronald Koeman's first game in charge ended in a 2-1 defeat to Liverpool. But, there were plenty of positives.
Dusan Tadic bagged a fine back heel assist. And Nathaniel Clyne's goal confirmed Southampton will continue to have attacking full backs under the Dutchman, just as they did under Mauricio Pochettino.
Southampton have an attractive looking fixture list ahead of them. West Brom at home this week is followed by 10 games they should make an impact upon.
4. The Germans are back for Arsenal but the Gunners look lethargic. Arsene Wenger confirmed after the Besiktas draw that World Cup winners Per Mertesacker, Mesut Ozil and Lukas Podolski will be available for Everton away.
Despite his sending off in Turkey, and perhaps as a result of the extra rest, Aaron Ramsey remains Arsenal's main man.
Alexis Sanchez hasn't stood out yet in his two matches for the Gunners and Santi Cazorla was poor in Turkey. Perhaps Alex Oxlade-Chamberlain will have played himself into a starting role thanks to the fine shot that hit the post late on at Besiktas.
5. Hull defenders? The join highest scorer in Gameweek 1 was James Chester. Scorer of Hull's winner at QPR and he also bagged 3 bonus points, despite giving a penalty away.
A home game against Stoke is followed by a few fixtures that don't look outrageously hard and Steve Bruce's side are usually well organised.
Many had Hull defenders (Alex Bruce at 4.0 is selected by 20% of the game) since they are cheap and they still look decent options. Beware the Europa League hangover though.
6. Eric Dier. Bagged as many points as Chester in Gameweek 1, proving the importance of goal scoring defenders. Barring injury in the Europa League match against AEL Limassol, Dier is guaranteed to start on Sunday against QPR.
The two Kyles, Naughton and Walker, are suspended and injured respectively, guaranteeing Dier the right back slot from where he scored against West Ham with just seconds to go.
7. Robin Van Persie returns. LVG is set to turn to RVP for Sunderland away and who can blame him after the shambles at home to Swansea.
Manchester United's easy start looks like it will count for little as Van Gaal often takes time to get his ideas across early in a new managerial reign.
But, goals against Sunderland seem likely. It was in the same fixture last season that Adnan Januzaj announced himself to English football with a brace.
8. Manchester City v Liverpool. Like many big Premier League fixtures, this guarantees goals.
In 2013/2014, there were 8 in two games. The season before there were also 8 with two 2-2 draws. There was also a 2-2 draw in July 2014 in the Yankees Stadium.
Nothing we have seen so far (including pre-season) suggests Monday at the Etihad will be any different.
City have had the upper hand in recent years, besides the epic 3-2 at Anfield last season, and Manuel Pellegrini's side look like strong favourites this time around again.
Join the 101 Great Goals league on Fantasy Premier League 2014/2015 with the following code: 15836-5705.
---