Fantasy Football tips: Which Chelsea players must you include for 2013/2014?
For many, Chelsea are the favourites to win the Premier League in 2013/2014.
The return of Jose Mourinho, aligned with managerial changes at the big two Manchester sides, means Chelsea could well be the team to beat in the coming campaign.
But, Chelsea have such a big squad and generally do challenge for all the trophies available, meaning it can be difficult to predict which players will be play regularly in the Premier League.
Play the FREE 101 Great Goals Fantasy Football game here and win 5,000 pounds!
There are also variables depending on incoming and outgoing players during the final weeks of the summer transfer window.
Wayne Rooney could of course arrive at Stamford Bridge, which would severely reduce the playing time of Romelu Lukaku, Fernando Torres and Demba Ba.
Whilst David Luiz continues to be linked with Barcelona, which would mean more opportunities for John Terry, Gary Cahill and Branislav Ivanovic in the centre, should the Sideshow Bob look-a-like depart for the Nou Camp.
Above all, Jose Mourinho's starting will be closely watched in the opening weeks of 2013/2014.
From pre-season, it looks most likely that "The Special One" will play a 4-3-3 or 4-2-3-1 formation.
So, going forward, its all about the likes of Juan Mata, Eden Hazard, Oscar and whoever is the first choice striker in terms of goals and assists.
Whilst at the back, it would be a surprise if Mourinho's return didn't coincide with a stronger, more miserly back line and perhaps plenty more game time for John Terry, compared to Rafa Benitez's spell at Stamford Bridge.
Here are our tips for the top 5 Chelsea players to lay your hands on as you build your Fantasy Football team.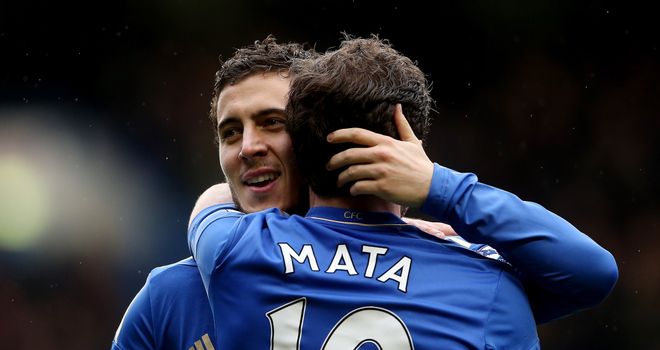 1. Eden Hazard. (5.5m). This could be Hazard's season. The Belgian was impressive at the start of the last campaign but tailed off towards the end. With a world class manager backing him and experience of English football, we could well see the former Lille playmaker star for the Blues.
2. Petr Cech. (4.3m). The second best goalkeeper in the Fantasy Football game in 2012/2013. Cech will likely be behind a miserly defence as one of Jose Mourinho's most trusted lieutenants. Judging by Mark Schwarzer's epic FAIL v Roma, the Czech Republic custodian will play every game.
3. Juan Mata. (5.6m). The lovable Spaniard was the fourth best player in the game last season with 141 points and will also be a mainstay for Chelsea this season. Mata can do everything you need from a Fantasy Football midfielder, crucially score and assist. A must have.
4. Kevin De Bruyne. (4.0m). One of the cheapest of Chelsea's attacking midfielders, and whilst on paper, Oscar, Mata and Hazard will likely be the starting three playmakers, De Bruyne should get a lot of game time. The 22-year-old scored 10 goals for Werder Bremen in 33 Bundesliga matches last season and even if he only comes on for cameos, will get amongst the goals.
5. Romelu Lukaku. (6.4m). Cheaper than both Torres and Ba – as it stands Lukaku is the man in possession of the lone striker role at Stamford Bridge. He was top goal scorer for Chelsea in pre-season with five goals and currently appears to be in sharper fitness compared to El Nino. Like De Bruyne, you suspect Lukaku was given playing time assurances from Mourinho and after scoring 17 goals for West Brom last season, could well claim goals in the early fixtures at home to Hull and Aston Villa.
Play the FREE 101 Great Goals Fantasy Football game here and win 5,000 pounds!
Every goal of Chelsea's pre-season is on the video below.
[gthumb id="343228″ size="large" autoplay="1″]
---
GAMBLING CAN BE ADDICTIVE, PLEASE PLAY RESPONSIBLY