Fabio Aurelio innocently asks if he can fill in for Dirk Kuyt at Liverpool Charity Match on Instagram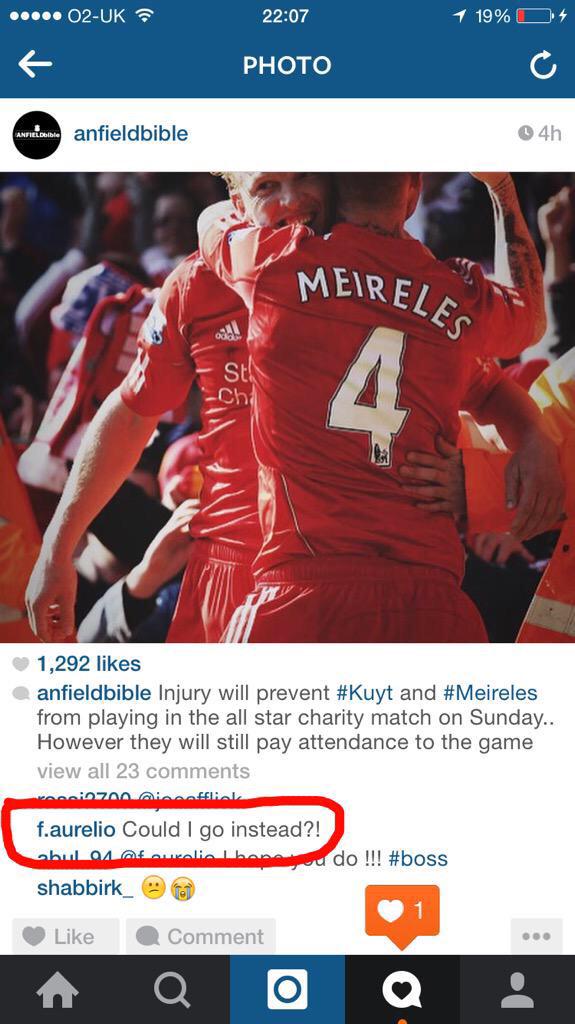 Liverpool is hosting a hotly anticipated charity match tomorrow, with a whole host of former Reds coming to Anfield for the game.
Only the most illustrious and successful players were invited, with the likes of Fernando Torres, Luis Suarez, Alvaro Arbeloa, Pepe Reina and Xabi Alonso  all expected to take part.
Dirk Kuyt and Raul Meireles have been ruled out through injury though, which will be a real blow to Dutchman Kuyt, who spoke of how emotional he felt at being invited in the first place.
That means two players will need to be fastracked into the All-Star team at the last minute, and there's definitely one man who would be more than happy to take part.
Brazilian full-back Fabio Aurelio, who made 87 Premier League appearances for the club between 2006-12, saw the news on Instagram, and amazingly asked if he could come along in their place.
Without even identifying himself, Aurelio came across as just a simple fan, and his request could have gone unnoticed were it not for one eagle-eyed Reddit user.
(Via Liverpool Reddit)
Best football betting tips & free bet offers
Click here for more Premier League betting tips
---