Ex-Arsenal & Everton striker Franny Jeffers is axed by Owls for a head-butt (video)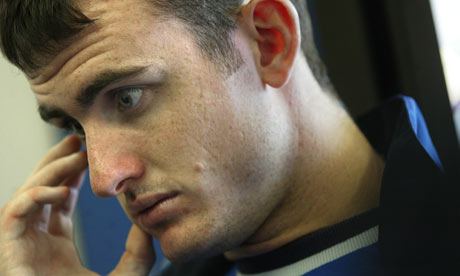 It's almost incredible to think that Francis Jeffers once played and scored for England back in 2003 against Australia.
Dogged by the "fox in the box" label which was handed to him by Arsenal manager Arsene Wenger, the once promising career of Francis Jeffers has steadily fallen by the wayside over the last decade, with the striker making the headlines this week for all the wrong reasons.
Jeffers has been fined £26,000 and told he will never play for Sheffield Wednesday again after receiving his marching orders in the Carling Cup this week for head-butting and punching Port Vale captain Tommy Fraser. Jeffers exited the pitch with blood pouring down his face.
Raging Wednesday manager Brian Laws refused to defend Jeffers' brutal assault on Fraser.
Laws: "His conduct was totally unacceptable and something that this football club will not tolerate from any player. He has been issued with the maximum fine the club can impose and has also been placed on the transfer list. The kind of behaviour enacted on Tuesday night is completely unacceptable and does not represent what Sheffield Wednesday stands for and clearly sets a bad example for the game of football."
For his part, Jeffers has made a lame attempt to draw a line under Tuesday's incident by meekly apologising to "the fans, the players and everybody at our club for letting them down."
The match wasn't all about Jeffers' headbutt; Port Vale's second of the night was a tremendous 30-yard ripper from Robert Taylor which went into the net off the underside of the bar.

Highlights of Port Vale's 2-nil defeat of Wednesday, including footage of Francis Jeffers' attack on Tommy Fraser (1.45 into the video), can be seen here.
---