Euro 2013: Sublime Spain & Incredible Israel
As many of you will know, having seen us stalk Kevin Strootman for much of the tournament, we had the privilege to spend the last couple of weeks in Israel for the Under-21 European Championships.
Stuck in the Euro 2013 tournament bubble, we had little time to reflect until now.
Two things stand out now the Under-21 Euros are over: Spain were just sublime and Israel is an incredible country to visit.
After securing Euro 2012 with 12 goals for and 1 goal against, Spain romped to Euro 2013 with 12 goals for and 2 against – both conceded against Italy in the final.
Kudos to the Azzurini for performing well in the final although it was our suspicion that Holland were the second best team in the tournament.
The Dutch, powered on by the midfield partnership of Strootman and Marco van Ginkel (pictured above), made a poor decision not to play their full strength side against Spain in their final group game and fell to familiar Dutch failings against Italy in the semi-finals.
As for England, well the less said about Stuart Pearce's side the better but from the evidence of the Under-21 European Championships, England could be as much as two decades behind Spain.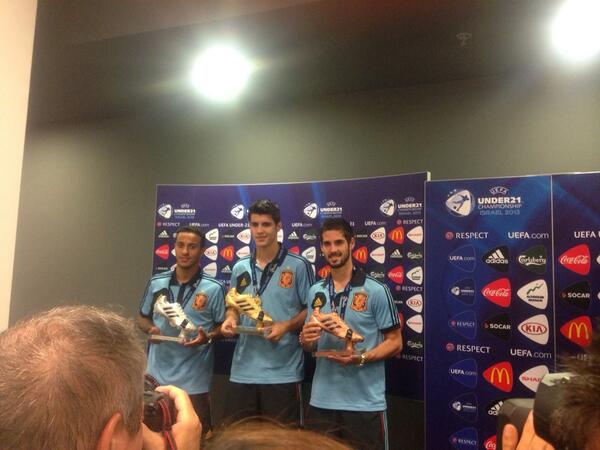 The football played by the Spanish was just exquisite. Thiago Alcantara and Isco were magical. And Asier Illarramendi was simply a joy to watch.
It should come as no surprise that Illarramendi looks like being the natural successor to Xabi Alonso, Sergio Busquets and Javi Martinez – the Spanish depth of talent is simply frightening.
And, well played Alvaro Morata. The Real Madrid forward finished as top scorer, despite not even starting the first two games.
Besides Spain, the other big winner of Euro 2013 was Israel – a terrific host country and a wise choice by UEFA. And, we aren't just saying that because they gave us free beer after every match!
By holding the Euro Under-21s in Israel, the UEFA made six important statements:
1) Yes to "small" football countries! It is important to hold major European football events in peripheral countries which are members of UEFA even if they do not have the strongest league, such as Israel, a Mediterranean state and a full UEFA member since 1994.
2) No to politics! Keep football away from politics. The same way Euro 2012 was held in Ukraine a year ago despite political protests, there was no reason not to hold the U21 Championship in Israel, notably the only democracy in the Middle East.
3) Israel's team was a symbol for peace! Israel's national U21 football team consists of Jewish, Arab and Druze players, all citizens of the democratic State of Israel, symbolizing the variety and peaceful existence within Israeli society, which is often neglected by the media.
4) Great weather! In a month of extreme weather conditions in many European countries, which included heavy rainfall and floods, the pleasant climate of Israel was the ideal location for a football feast. The fact that many FIFA members consider moving the Qatar 2022 World Cup to the winter, points to the increasing significance of climate considerations in choosing football venues and tournament dates, and rightly so.
5) Excellent tournament! The host country did a tremendous job. The Israeli stadiums were all modern, pleasant and easily accessible. The atmosphere was outstanding, as Israelis are known to be "football fanatics." Many fans and journalists who came to the tournament were given a taste of the warm hospitality of the local people, who were proud to host such a prestigious tournament for the first time.
6) There's more to see than football stadiums! For those fans whose interests went beyond the matches, Israel was a spectacular country to visit. In spite of its small size (only 8'000 square miles), Israel has an extreme variety of geographic, historic and religious places of interest. During the tournament, the visitors could choose between enjoying the beautiful sandy beaches of the Mediterranean and exploring the Dead Sea, the lowest place on earth. Or they could take fascinating tours of Jerusalem and its holy sites, while having fun at night in Tel Aviv, known to be one of the world's top party towns.
The UEFA Under-21 European Championship in Israel was an outstanding experience in all aspects. One can only hope that UEFA will hold future football finals and tournaments in this unique country.
Below are videos of Thiago Alcantara's performance in Spain's final victory over Italy – has anyone ever scored a (perfect) first half hat-trick in a final?
Followed by Asier Illarramendi's performance v Italy (you really have to watch him to see how good he is) and Isco's skills v Russia.
Then there is video of Sky Sports journalist Jon Holmes in Israel to give a feel of what a special place it is.
Finally, there is a WhoScored.com team of the tournament graphic.
Which doesn't include Daley Blind, Strootman, van Ginkel, Marco Verratti, Lorenzo Insigne and our favourite player Illarramendi – showing just how much talent was in Israel these past few weeks.
(Why oh why did England send Jack Rodwell and Alex Oxlade-Chamberlain to Brazil for a friendly when they could have played in a high level tournament?!)
For more on the best players at the Under-21 European Championships see here & here.
(By Emanuel Sallah.)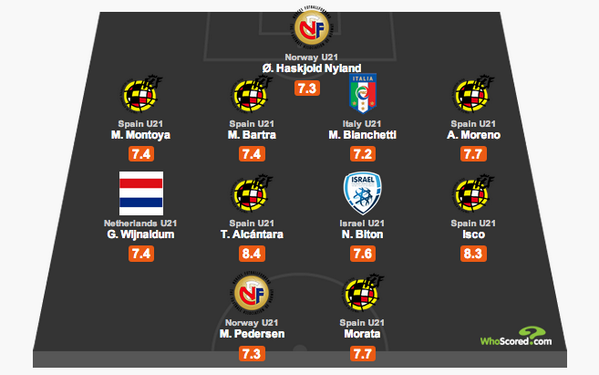 ---