England v Australia! Ashes live cricket streaming: Watch the Trent Bridge 1st Test (July 10-14)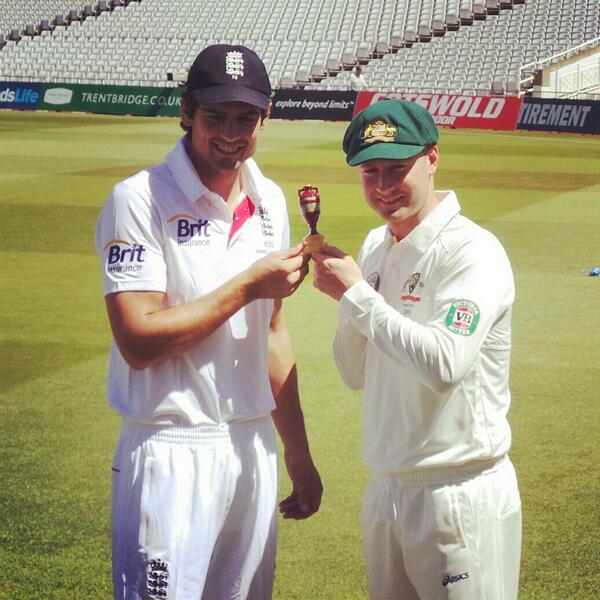 Watch England v Australia at Trent Bridge in the first Test of the 2013 Ashes on Sky Sports via the NOW TV live streaming service, available on PC or Mac, Android, iPad and iPhone-  to anyone in the UK.
One of the oldest rivalries in sports gets under way again on Wednesday July 10, 2013 at 10:00 am as Australia and England resume battle for the Ashes at Trent Bridge for what should be a fascinating test and series.
So how can you watch England v Australia in the 2013 Ashes at Trent Bridge?
Simply click on this link and follow instructions to watch England v Australia in the first Ashest Test of 2013 at Trent Bridge.
NOTE: The Now TV Sky Sports Day Pass costs £9.99 each and your 24 hours of live Sky Sports will start when you activate it, not when you buy it. So you don't need to wait until the first over to get yours.
The Now TV Sky Sports live streaming service is only available in the United Kingdom.
England and Australia may be ranked third and fourth in the cricket Test rankings but that hasn't dimmed the excitement and anticipation ahead of one of the biggest sporting events this summer.
Alastair Cook has warned his side to be ready for a "heck of a battle" despite the fact Australia come off the back of a horrible tour of India and they only changed their coach from Micky Arthur to Darren Lehmann two weeks ago.
Nevertheless, Michael Clarke has some exciting bowlers at his disposal and two strong attacks should ensure there are results throughout the series.
Trent Bridge was the scene of an epic Test match in 2005, with substitute fielder Gary Pratt making a name for himself (see video below) and there could well be fireworks in the first of an amazing 10 consecutive Test matches between England and Australia to come in back-to-back Ashes series.
Watch the first Ashes Test between England and Australia at Trent Bridge on Sky Sports on PC or Mac, Android, iPad and iPhone – available to anyone in the UK.