England physio Gary Lewin suffers suspected dislocated ankle celebrating Daniel Sturridge equaliser v Italy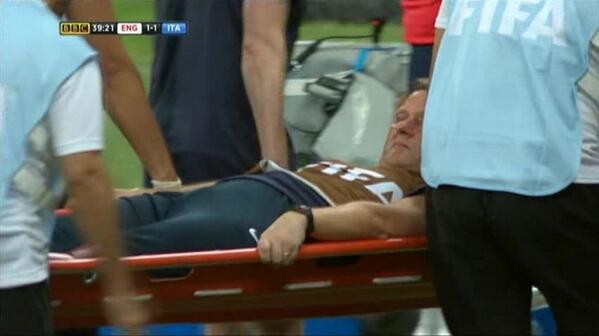 Gary Lewin has been a fixture at top flight football for many years.
He was often seen on the Arsenal bench, where he became a well-known and respected physio, before taking over at England from 1996.
Lewin was credited with saving footballers from much more serious injuries, including Eduardo da Silva during his time at Arsenal.
After England equalised against Italy, the camera panned to the England bench where there were a number of people surrounding a prone Gary Lewin on the ground.
Initial reports at half-time suggest Lewin has a suspected dislocated ankle.
See a number of Tweets on the Gary Lewin injury below.
England physio Gary Lewin has suspected broken leg after celebrations for Sturridge goal

— Jeremy Wilson (@JWTelegraph) June 14, 2014
Wonder what was going through Gary Lewin's mind? pic.twitter.com/5CX7Wmjtog

— Back Page Football (@bpfootball) June 14, 2014
Gary Lewin :-( Get him to treat himself.

— Football Clichés (@FootballCliches) June 14, 2014
Gary Lewin's done his ankle. They need to send him to Gary Lewin.

— Mattsubishi (@RealMattLucas) June 14, 2014
Can't believe my old Physio Gary lewin being stretchered off. 1st time that's ever happened. Hope he knows what to do. Ice 1st Gary!!!

— Ray Parlour (@RealRomfordPele) June 14, 2014
Gary Lewin the England Physio reportedly breaks his leg celebrating England's equaliser!! Apparently he fell over the energy drinks #notgood

— Chris Kamara (@chris_kammy) June 14, 2014
Alanis Morisette, if you're watching, what happened to Gary Lewin. THAT's ironic…

— Joe Oppenheimer (@JosieLPO) June 14, 2014
RIP Gary Lewin. You're on the big massage table now brother.

— Leo (@tweetofleo) June 14, 2014
Gary Lewin tried to do the wiggly arm dance, but instead, he broke his ankle.

— FA9 (@Football_Agent9) June 14, 2014
Gary Lewin will be able to tell his grand kids about the time he broke his leg at the World Cup

— Brian Durand (@BrianDurand56) June 14, 2014
You know Gary Lewin is an Arsenal man. Even without playing he broke his ankle

— Ouriel Daskal (@Soccerissue) June 14, 2014
England did it on purpose, they want Eva Carneiro pic.twitter.com/uzrlvQlnf8

— Sn0w wh1t3 (@Haltonn) June 14, 2014
---