El Pais award Ronaldinho their 'King of America' title, also announce South America's best XI of 2013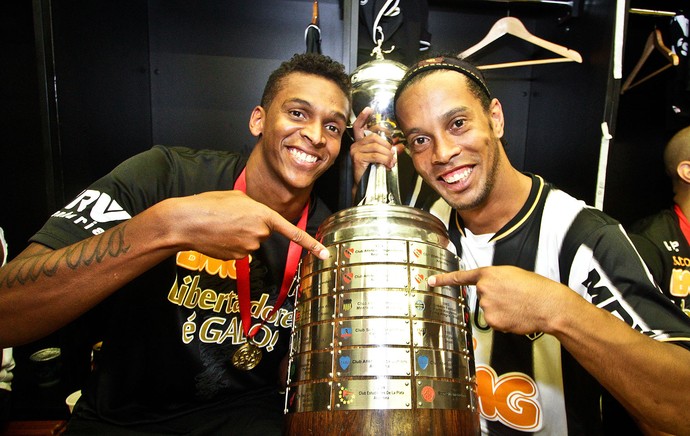 On New Year's Eve, established Uruguayan paper El Pais announced their well respected end of season awards and Ronaldinho scooped top honours being crowned 'Rei da América' (King of America).
Ronaldinho won the award for the first time in his career after leading Atletico Mineiro to success in the continent's most prestigious league competition, the Copa Libertadores.
Ronaldinho won the vote made by journalists from around the continent with 156 votes. Neymar, who played at Santos at the start of 2013, got 81 votes. while Newell's Maxi Rodriguez took 79 votes. 
Aside from the individual award, El Pais also announced their South America's team of 2013.
Best XI: Martin Silva, Marcos Rocha, Rever, Paolo Goltz; Maxi Rodriguez, Everton Ribeiro, Ronaldinho, Bernard; Neymar, Scocco, Jô.
A full list of winners of the King of America title is below.
1987 – Carlos Valderrama (Colombia) 
1988 – Ruben Paz (Uruguay) 
1989 – Bebeto (Brazil) 
1990 – Raul Vicente Amarilla (Paraguay) 
1991 – Oscar Ruggeri (Argentina) 
1992 – Rai (Brazil) 
1993 – Carlos Valderrama (Colombia) 
1994 – Cafu (Brazil) 
1995 – Enzo fFrancescoli (Uruguay) 
1996 – José Luis Chilavert (Paraguay) 
1997 – Marcelo Salas (Chile) 
1998 – Martín Palermo (Argentina) 
1999 – Javier Saviola (Argentina) 
2000 – Romario (Brazil) 
2001 – Riquelme ( Argentina) 
2002 – José Saturnino Cardozo (Paraguay) 
2003 – Carlos Tévez (Argentina) 
2004 – Carlos Tévez (Argentina) 
2005 – Carlos Tévez (Argentina) 
2006 – Matías Fernández (Chile) 
2007 – Salvador Cabañas (Paraguay) 
2008 – Juan Sebastián Verón (Argentina) 
2009 – Juan Sebastián Verón (Argentina) 
2010 – Andrés D'Alessandro (Argentina) 
2011 – Neymar (Brazil) 
2012 – Neymar (Brazil) 
2013 – Ronaldinho (Brazil)
---
GAMBLING CAN BE ADDICTIVE, PLEASE PLAY RESPONSIBLY