Eden Hazard to Nieuwsblad: 'At Chelsea I'd give myself 7/10. I aim to win the EPL'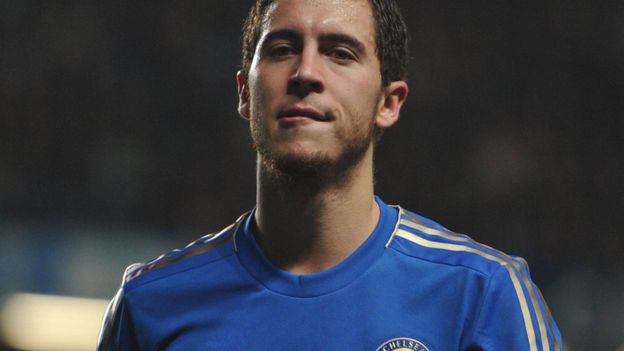 Belgium newspaper Nieuwsblad has conducted an in-depth interview with Chelsea star Eden Hazard to discuss the starlet life's so far at Cobham.
The interview with Eden Hazard, translated into English, can be read below.
***
Eden, what is your assessment of this half-season on a personal level?
I can not be unhappy. A rating? Maybe 7 out of 10? From my first week, I could directly show beautiful things. After that I had a worse time, but now I feel sharp again. I am of course still make more individual actions and accelerations, but they are already doing quite well, despite a significantly higher level than in France.
What is the biggest difference with the Ligue 1?
The Premier League demands an adaptation especially on the physical side of the game. It is so much more intense! In France, you can have a poor performance but get a result. Here there is no dead time during the 90 minutes. And then there's this special atmosphere in the stadiums. People live for football. They wait all week match of the weekend. We played for Leeds Cup: This is a club of D2 but their fans are passionate. The English are really crazy about football.
In Lille, you were the playmaker while here, you face competition from Mata, Oscar, Moses …
This is the way of life at a top, top club. Each player must prove himself. [At Chelsea] there are only stars. For the last  six months I've been discovering a new world.
From what you say, it looks like Eden Hazard, nominated for the 11th Year of FIFA, is only halfway through the hierarchy in the locker room of Chelsea …
(Laughter) You should go ask my teammates if they consider me a star! I play for the team, I play my role, I make and I give assists. But everyone is important for the team … 
You are involved in 30% of their goals this season Chelsea. This statistic has led some to say that you were the new Gianfranco Zola …
I prefer the new Hazard!
Here you compare with Sergio Aguero of Manchester City.
I do not like comparisons. The names you mention are great players. I remain a young talent who has yet to make much progress and who can score more. 30% is not enough for me! (Laughs) I want to become the mister 100% Chelsea. I'm not saying I want to put all our goals. I just want to get maximum performance. We play a lot of games, no one can be good all the time, but I still search a maximum of consistency.
In Belgium is there a false perception of your image? Your critics say that you are a bit of a diva who doesn't give it all in training.
Of course I'm working hard! Do you really think that I could train at the highest level in France for four years without injury if I did not train seriously?
Rudi Garcia, Lille your mentor says that you are the perfect example of the new generation of footballers: you are already an adult at age 20.
I think it's better not to generalize. Some are adults at age 20, others 30. And in the meantime, I reached 21 years. (Laughter)
It would be a great achievement at your age to be included in the Fifa XI of the Year. Are you looking forward to the verdict on Monday?
Not especially. It would be nice, but I do not expect too much on it. When I see the other nominees are … I'll hopefully be selected in years to come.
You've already won two Player of the Year awards in Ligue 1, plus a championship and the cup with Lille. But since you've arrived at Chelsea you've already lost three finals (European Supercup, Community Shield and World Club Championship) this season …
Wait for 2013! This year I want to win at least one title with Chelsea. No. Actually two in fact: the Premier League and the Europa League. And I'm also focused on getting Belgium to the World Cup.
On a personal level, what other wishes do you have for 2013?
That everything all goes well with my family. That's still the most important thing of all.
Click here for more Premier League betting tips
---