Eden Hazard panned for anonymous performance during Man City 3 – Chelsea 0 [Best Tweets]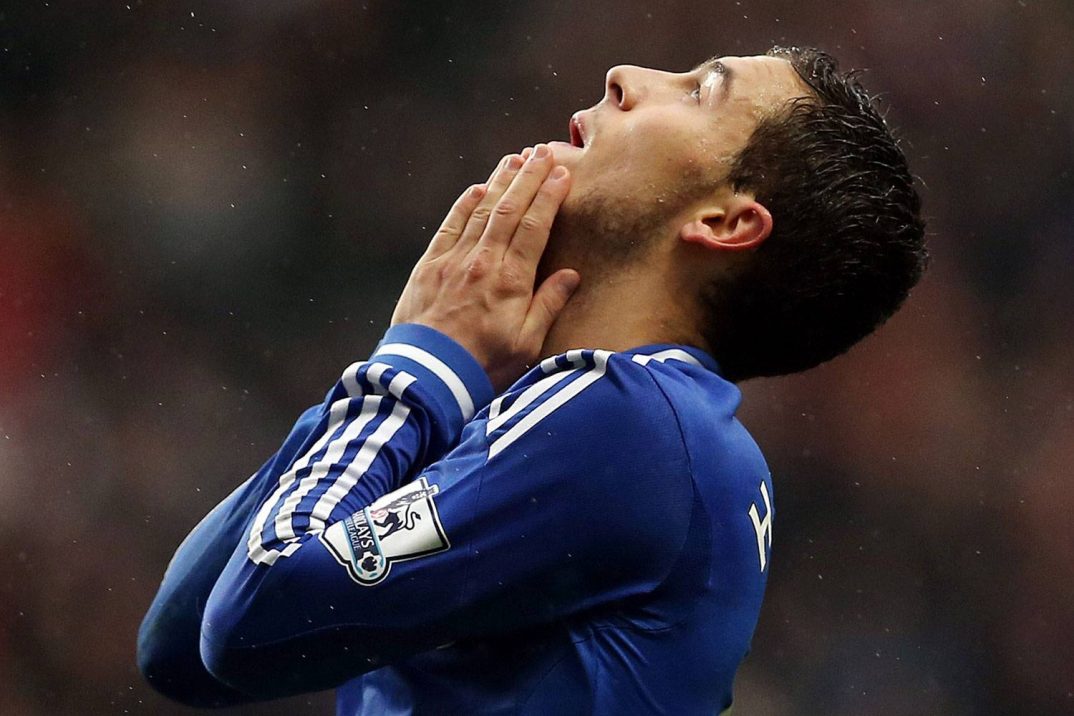 Many have been comparing Eden Hazard to Cristiano Ronaldo in recent weeks but those comparisons look a little silly right now.
The 24-year-old Belgian winger was completely anonymous during Chelsea's 3-0 defeat to title rivals Manchester City on Sunday afternoon.
Jose Mourinho's Champions of last season were completely outplayed by a Sergio Aguero inspired Manchester City team.
Apart from missing a glorious opportunity at 1-0, his only notable contribution was receiving a yellow card with 10 minutes remaining for a foul on Yaya Toure.
Eden Hazard was heavily criticised on Twitter and we've collated some of the best tweets below.
Chelsea should bring hazard on

— Fourth Official (@FourthOfficial_) August 16, 2015
I'm here searching for Hidden Hazard like #MCICHE pic.twitter.com/kPqMTLZYbH

— Ibe (@I_pissVodka) August 16, 2015
Want to compare Hazard with Neymar & Bale? Be my guest, very probable. But to Messi & Cristiano? No, never. Go watch some hockey.

— Ali (@RM_Insider) August 16, 2015
Since the Community Shield, Hazard has looked ever so bland and timid, early doors, yes, but not what he was this time last year.

— Liam (@OffsideLiam) August 16, 2015
When Hazard doesn't wanna come out for the second half…. http://t.co/er38Drtobx

— Football Vines (@FootballVines) August 16, 2015
Eden Hazard, that's why you're not up there with the greats. Sort out your finishing.

— READ MY BIO! (@TekkaBooSon) August 16, 2015
Eden Hazard failed to complete a single take-on in the first half vs. Man City. pic.twitter.com/2zkdtQ4r4T

— Squawka Football (@Squawka) August 16, 2015
Hazard's heatmap so far pic.twitter.com/DT8A4wMi09

— Roberto Goodman (@RobGoodmanAFC) August 16, 2015
Imagine Oxlade Chamberlain if he lost all his skill, Vision, pace, mentality and visibility. That's Eden hazard.

— Wilshoholic (@Wilshoholic) August 16, 2015
Hazard is the second best player in the world. pic.twitter.com/MPlBuFedWX

— RedManc (@theUnitedManc) August 16, 2015
Chelsea should bring on Eden Hazard here.

— PhantomGoal (@PhantomGoal) August 16, 2015
If I say Hazard 3 times in the mirror, will he appear?

— Amy (@mcg_amy) August 16, 2015
They replaced her with a fraud named Hazard pic.twitter.com/c194jgghxs

— Das Gööner (@GoonaticsAFC) August 16, 2015
Hazard better than Ronaldo? Jesus Wept

— Nigerian God (@Echecrates) August 16, 2015
When you keep Hazard in your back pocket pic.twitter.com/2Tk40LnvQV

— ManCity Stuff (@StuffMCFC) August 16, 2015
---