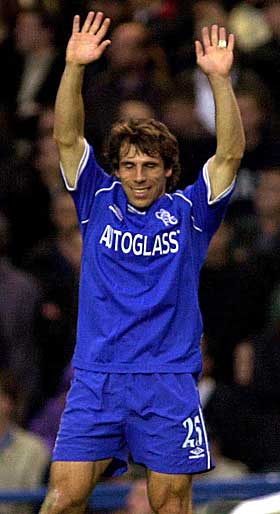 If the papers are correct, and in this case their seems to be just one overwhelming opinion, Gianfranco Zola will take over as West Ham manager either today or tomorrow. Now, it is unlikely that Gianfranco reads this blog, but if he does and he can still steer clear of Upton Park then he undoubtedly should.
Quite simply, West Ham are not a good club for the little Italian legend to be taking over. In the current Premier League climate the Hammers job is one of the most difficult. The squad of players is decent but only good enough for a mid-table position at best. If Zola is afflicted by injuries like his predecessor Alan Curbishley, the Hammers could well be fighting a relegation battle.
On Sunday, non-executive director Mike Lee hinted to Five Live that there would be little or no money for the new manager to spend. "Obviously if the new manager comes in and there's issues that we need to look at in January that's for a conversation. But we feel that if we get players fit – and that's been an issue at the club – then this is a strong squad that has every reason to be confident about the season."
The lack of spending power leaves Zola with a pretty average first XI and his managerial ability will be tested from the start. Whilst they have won three out of their four games this season they have not dominated a match this season and could well have lost to Wigan and Blackburn at home.
There have also been doubts over whether the Hammers faithful will welcome Zola since he is a Chelsea legend. The real truth is that the hardcore fans at the Boleyn are almost impossible to please. Alan Curbishley was an ex-West Ham player yet under his tutelage West Ham didn't play the "right way."
Zola has promised to play some attacking football ("I only know one way to play: on the floor, attacking football, the way things should be done") and he should be commended for that, but as an inexperienced manager will West Ham's shaky defence be found out in the coming weeks? Attacking football is what everyone wants to see – but will the likes of Callum Davenport be able to stand up to the task at the back?
Of course there will be some licking their lips at the thought of Dean Ashton and Craig Bellamy on the end of Zola's fantasy football, but is a midfield including the likes of Mark Noble, Matthew Etherington, Scott Parker, Lee Bowyer and Julien Faubert good enough? And of course, the big question will be if Zola can tame Craig Bellamy, and if the Welsh striker's career is anything to go by then that is unlikely.
This situation is eerily reminiscent of when Ossie Ardiles took over at Spurs. A diminutive foreigner who was loved by all sullied his reputation in England by taking a job he simply wasn't up to. Ossie also came with promises of attacking football and ultimately this was his downfall. Ardiles took the Spurs job at the wrong time, just as Zola is taking over at West Ham after all the money has been spent.
Gianfranco Zola will go down as one of the most gifted players to play in English football, it was a shock that he moved from Parma at a time when Serie A was a higher quality league than the Premiership. The mercurial Italian lit up Stamford Bridge with outstanding ability and there is unlikely to be a soul in world football who doesn't hope Zola succeeds at Upton Park.
For those of us who remember him for some glorious moments including the goal in the Cup Winners Cup final and the gorgeous flick against Norwich, now is the time to relive those moments. This gentleman of football deserves success but West Ham are not the club anymore who place trust in their manager and are willing to give them time to succeed.
Once Zola fails at West Ham we will never look at him in the same way again.
Click here for more Premier League betting tips
---