Doing A Zidane! Nelson Rivas (Montreal Impact) assaults Antoine Hoppenot (Philadelphia Union)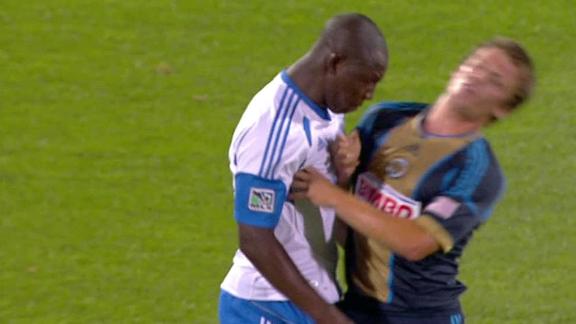 What. A. Nutter.
Montreal Impact defender Nelson Rivas collected a straight red card on Saturday night in the MLS, after he laid out Philadelphia Union striker Antoine Hoppenot with a crazy headbutt.
Rivas was riled after he was tossed to the floor in a tussle with Hoppenot. After being treated like a rag-doll, Rivas picked himself up, marched over to Hoppenot, and incredibly pulled a Zinedine Zidane as he cracked heads with his opponent.
Rivas received a red, however Philadelphia also had Jack McInerney dismissed after he aggressively shoved Rivas immediately after the headbutt had been committed.
Unsurprisingly, the Union were furious at also having a man dismissed as Philadelphia manager John Hackworth told reporters after the match:
We should be up a man. It's unbelievable that we're not up a man for the last 22-plus minutes of that match. Jack goes to defend our player [Hoppenot], who our medical staff is looking at right now. You cannot tell me that a headbutt to the nose and cheekbone, and a player literally going to push another player, is even justifiable for equal punishment. There's no possibility.
We always fight for each other, so I think that's what you saw Jack McInerney doing. He's a young player who watches his teammate get headbutted, and he's sticking up for his player. But what he does – and anybody can go watch it on video – go watch it, because he doesn't do hardly anything on the play, and he gets a red card. Same as the Montréal player does. I just can't understand how that is done in this game.
Watch the footage below.
[jwplayer config="For-all-videos" mediaid="210663″]
---
GAMBLING CAN BE ADDICTIVE, PLEASE PLAY RESPONSIBLY