D'oh! Raheem Sterling get's daughter's birthday wrong, mother publicly shames him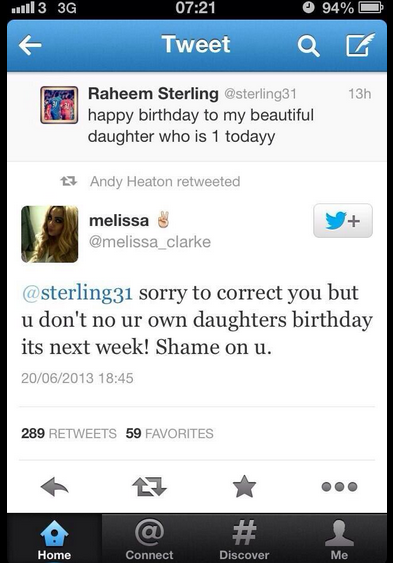 It's just as well the spurious rumours about Raheem Sterling having more kids than Patrice Evra's dad turned out to be false, because the Liverpool striker seems to be having enough trouble keeping up with the one.
His heart was in the right place when he tweeted to wish his daughter a happy first birthday (aww), it's just that he was a week too soon.
The child's mother replied telling him he should be ashamed of himself, which was a bit harsh.
And how cruel was Ms Clarke publicly OWNING him for the mistake?
No emoticons either, so it's hard to tell if she's deadly serious or just taking the piss.
Then again this is someone who spells 'know' without the k…
A DM probably would have sufficed, Mel.
---
GAMBLING CAN BE ADDICTIVE, PLEASE PLAY RESPONSIBLY