Do Arsenal have a hope in hell of signing Valencia's David Silva? (video)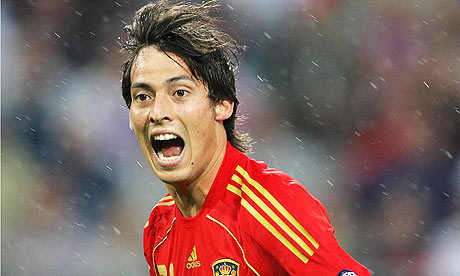 With Maroaune Chamakh's signature all but confirmed, Arsene Wenger has begun to turn his attention to other acquisitions. Centre backs are definitely on the agenda with Subotic and Boateng touted as possible partners for Vermaelen.
Interestingly, the Spanish media are reporting that Arsenal sent scouts to the midweek Europa Cup tie between Atletico Madrid and Valencia to watch Valencia's flying winger David Silva.
Silva has been linked with a move to all the top European sides and at 24 is mature, but also young enough to make a move abroad without too many problems.
Although on Valencia's books for the whole of his career, he made his professional debut on loan at Éibar, a Spanish second division team as a 17 year old, for who he made 35 appearances scoring two goals. This experience toughened up the youngster and helps explain why he does don't disappear when given a tough time by the opposition full back.
He helped Eibar to fourth place in the Second Division, the clubs highest-ever finish. But it was when he was on loan at Celta de Vigo in 2005-06 that he really began to catch the eye, leading to his recall to Valencia.
In the two seasons following his loan move to Celta, he missed just six games, a testament to his durability.
He is also known for his versatility. The Spaniard is mainly left-footed and can play on the right or left flank as well as in the 'hole' to great effect.
Silva enjoys running at players, he has amazing close control and standing at just 5ft 7 inches he possesses a low centre of gravity enabling to turn sharply and change direction quickly leaving players trailing in his wake.
The Spaniard is also know for his ability to accurately cross, with Chamakh's excellent aerial ability this may be why Wenger is looking at him.
It will also end Wenger's policy of trying to bang square pegs into round holes. He has tried moulding Arshavin, Walcott, Nasri, Rosicky and Diaby into wide midfield players when none want to play there. Finally, he will have a player who is a natural down the flanks.
At international level he is a regular for Spain and has made 33 appearances scoring 6 goals. He started five of their six Euro 2008 games and was rested alongside the likes of Torres, Villa, Puyol and Xavi for their final group win over Greece, emphasising his importance to the team.
He has Champions League experience and scored a great goal against Chelsea which can be seen here.
Silva has four years left on his contract and his market price is considered to be around the €25 million mark. However, with the transfer market having almost completely collapsed, cash strapped Valencia may be willing to settle for a lower price.
With Wenger's famed negotiating stance he may be able to prise him for cheaper. Nevertheless a hefty sum will have to be paid. However, the past week may have taught Wenger that although his squad may be a good one, he needs some star quality and a purchase that will pacify Fabregas. With the acquisition of Silva he may have it.
Video evidence can be seen here.
---
GAMBLING CAN BE ADDICTIVE, PLEASE PLAY RESPONSIBLY