Dirty diver? Neymar booked for simulation in Santos win over Figueirense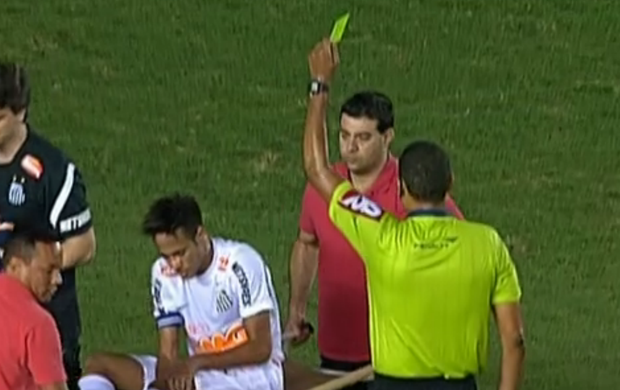 In the world of viral videos, it hasn't been a very good week for Santos starlet Neymar.
Last Wednesday, Neymar ballooned a penalty so far over the bar in Brazil's draw over Colombia that comparisons were made with Sergio Ramos and jokes that Felix Baumgartner was hit by the ball were swift.
On Saturday night, Neymar played in a 2-0 win for Santos at home to Figueirense but his night was somewhat spoiled by a booking received midway through the second half.
Neymar received the ball on the left touchline and chipped the ball impudently over a defender's head before Figueirense defender Americo meets him in the box and does brush against the Santos forward.
The 20-year-old wonderkid goes down very easily and clutches his knee before referee Claudio Francisco Lima e Silva hands out a yellow card that will see Neymar suspended for next week's Santos match with Corinthians.
Neymar is not best pleased about missing the penultimate match of Santos' campaign: "He took me out of an important game. I didn't ask for a penalty, I just got pushed over and it hurt. You must have common sense in these situations."
Judge for yourself whether Neymar dived on the video below.
[jwplayer config="For-all-videos" mediaid="260412″]
---