Dirty Diver! Neymar booked & suspended for simulation v Corinthians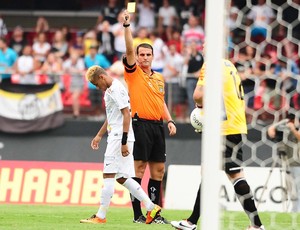 The calendar year 2013 has not been so kind to Neymar and the Santos starlet appears to have hit a disciplinary slump.
After failing to wow an English audience during Brazil's friendly defeat to England at Wembley, Neymar was sent off at Ponte Preta in mid February.
Neymar returned from suspension on Sunday against Corinthians but failed to truly sparkle in a 0-0 draw in the Campeonato Paulista.
And early in the second half, Neymar was booked for simulation as he tried to make in roads down the inside left channel.
The booking, which was fully deserved as Neymar tried to win a penalty, means the Brazilian wonderkid misses Santos' next game against Atlético Sorocaba.
Neymar's dirty dive is on the video below.
---