Diego Maradona hits the spot during Shanghai charity event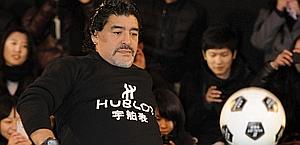 After undergoing an operation for kidney stones on Monday, Diego Maradona somehow made his way to a charity even run by Swiss watchmaker Hublot in Shanghai on Tuesday.
El Diego reassured fans that he is "doing fine" after abdominal pains had struck the Al Wasl coach during the course of Sunday.
Two videos have emerged from the Hublot event which appear to have been taken from someone in the crowd.
The first shows Diego Maradona attempting to hit the spots on the wall with the 1986 World Cup winning captain proving he's "still got it" and celebrating wildly.
And the second video should raise a few laughs as Maradona aims to teach a couple of non communicative Chinese kids how to head the ball.
---