Chelsea's Diego Costa appeared to spit at ref Michael Oliver in the Everton FA Cup game (Video)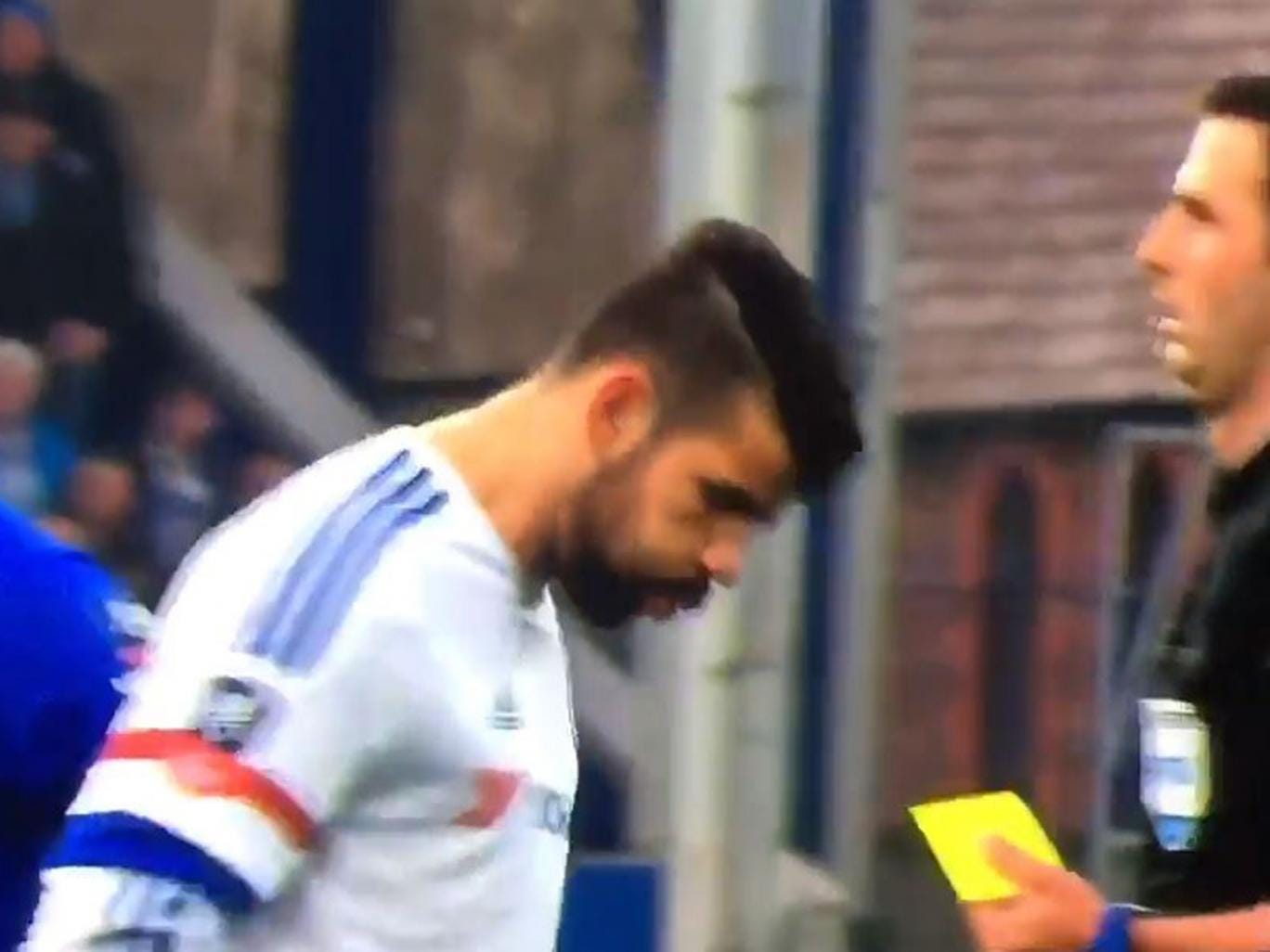 Chelsea striker Diego Costa could be in trouble.
During the first half of Saturday's FA Cup quarterfinal away at Everton, the Blues centre forward appeared to spit at referee Michael Oliver.
After being booked, the Blues attacker clearly spat on the floor, and many believe the Spanish international was aiming at the ref's feet.
The camera angle made it difficult to see exactly where Costa's spit ended up.
Watch the footage from the Everton v Chelsea game below, together with tweets on the topic.
Did #Costa just spit at the refs feet? #EvertonVChelsea #FACup pic.twitter.com/Sju93BhENl

— Kelly Sotherton (@KellySotherton) March 12, 2016
Did Costa just spit at the feet of the referee and get away with it in Chelsea V Everton? A bad example of a professional.

— HEADER (@header_athletic) March 12, 2016
Erm wait up, did Costa just spit at the referees feet? pic.twitter.com/LNvOdt9aE3

— Nickgooner (@Nickgooner84) March 12, 2016
@ChelseaFC and Costa just spit at the ref, how can u defend his actions, he is out of control. #norespect for the game

— Dante (@DizzleAZ) March 12, 2016
Costa just spit on the ref. What a savage

— Shabba Ranks (@_Eng112Savage_) March 12, 2016
Did Costa spit at the ref, there?

— mikeymike2711 (@mikeymike2711) March 12, 2016
Scumbag Costa spat on the refs shoes and no one caught it

— Dylan (@Dylan_Arsenal) March 12, 2016
Costa just spat at the ref there, disgusting person

— Dom (@Dom_Parmar97) March 12, 2016
The good and bad of Diego Costa… #EFCvCFC #FACup #bbcfacup https://t.co/K3DadJyPie

— Match of the Day (@BBCMOTD) March 12, 2016
Click here for more Premier League betting tips
---