Did referee Mike Dean celebrate Louis Saha's Tottenham goal v Arsenal?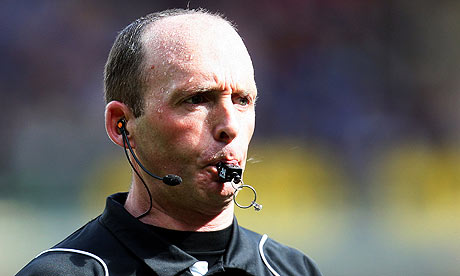 Much has already been written about Arsenal's 5-2 evisceration of north London rivals Tottenham but few have mentioned just how lucky Harry Redknapp's side were to go into the break on level terms despite letting slip a two-goal lead.
Aside from the first few minutes of the match, Spurs were opened up at will and even when 2-0 to the good they didn't look at all secure. Arsenal had countless chances in the first 45 – Robin van Persie fired just wide and hit the post whilst Theo Walcott could have been in on goal had he ran through instead of passing to the Dutchman.
And of course, there was an element of fortune surrounding both of Tottenham's goals. Louis Saha's opener took a heavy deflection of Thomas Vermaelen and there has been plenty of discussion over whether Gareth Bale took a dirty dive for the penalty. (In-depth analysis on whether Gareth Bale "won" the penalty here.)
With Arsenal playing so well, and notching five goals in 28 minutes, the role of referee Mike Dean has been forgotten by most Gonners.
Of course, there are many still angry at Gareth Bale (the only Premier League player to be booked twice this season for diving) and now a curious video has emerged from the Tottenham opener.
Keep an eye on the right hand side as Louis Saha closes in on the Arsenal box, Mike Dean appears to celebrate as the ball goes in.
Footage of referee Mike Dean appearing to celebrate Louis Saha's goal v Arsenal is here.
Related link: A wild Arsenal fan at half-time of 5-2 win over Spurs.
---