Did ref Lee Probert 'know' Marouane Fellaini handled inside the box v Man City?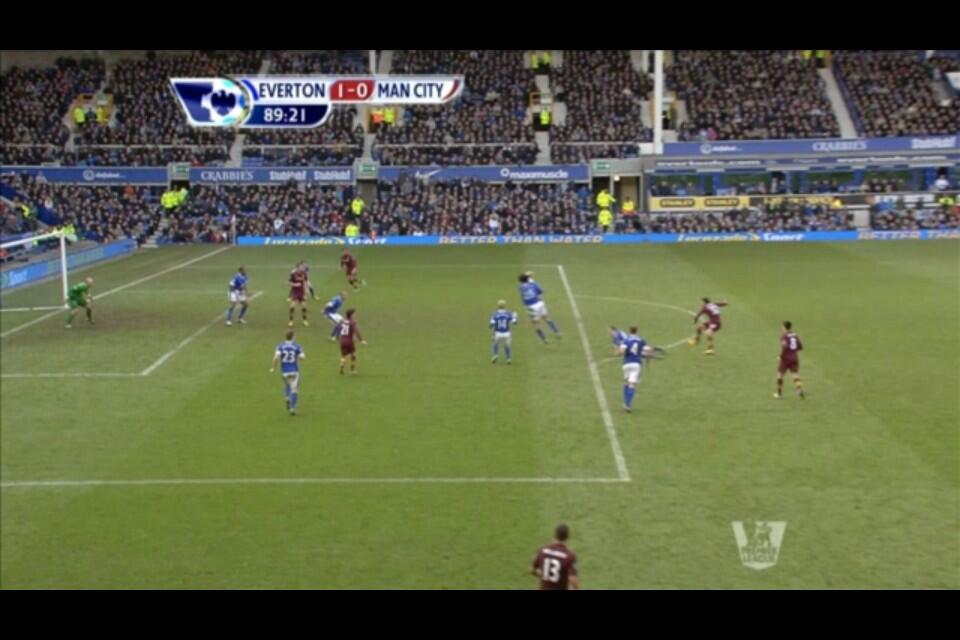 'Oh, he knows, he knows. He knows that's inside the box but he doesn't want to give it.' – Gary Neville in co-commentary during Everton – Manchester City.
Pundit extraordinaire Gary Neville is becoming famed for shooting from the hip when it comes to his analysis.
And the Nev showed once again just how insistent he is on speaking his mind with a fairly controversial shout during Man City's defeat at Everton.
Chasing the game and with an extra man, Man City's Carlos Tevez struck a shot from 25 yards which stuck the outstretched arm of Marouane Fellaini, who was standing at least a full yard inside the box.
It was a clear penalty, but Probert – who was well positioned just 5 yards away, inexplicably signalled for a free-kick on the edge of the area, to the disbelief of City's players.
Having already sent off Steven Pienaar for two bookable offences, the inference would be that Probert didn't want to send off another Evertonian, as Fellaini was already on a yellow. Cut the beating around the bush, the implication is that Probert bottled it.
On the other hand, there's the outside chance that he adjudged the ball to have struck Leon Osman's hand, who was indeed  just outside the box.
Watch Marouane Fellaini handle the ball at least a yard inside the box, and Lee Probert's subsequent decision to award only a free-kick, on the clip below.
Does Neville have a point? Did Probert bottle giving Man City a penalty and probable equaliser?
Fellapen
por Samu21213
---