Did Mike Ashley drink his way out of a deal in Dubai, while David O'Leary is being lined up by the Toon
Comment & analysis round-up
Quote of the day: "He's [Cristiano Ronaldo] probably the best player in the world, having done what he did last season, you can't take that away from him. If they put him back for our game then we'll have to deal with that. We're good enough to deal with Manchester United at their strongest, we shouldn't want them weakened. If they are strong they are strong and we still want to beat them."- Frank Lampard. (And yes, the lead picture from the Daily Mail shows metro Frank wearing make-up on a night out this week.)
Runner-up: "[Referee] Alan [Wiley] has phoned me and I think everyone will understand why he has done that. I don't think it will influence things, but all I can do is hope that the people who look at it understand and take into consideration the reason for why I was upset. In fairness to the referee, he has put a call into me. The Respect campaign is really important, but you've got to earn respect and he has earned a great deal of respect from me." – David Moyes.
Today's overview: Newcastle's peril continue in earnest this morning with a set of reports which will do nothing to reassure supporters that better days are on the way.
The lead story comes from Louise Taylor, who reports that David O'Leary is in the frame to be the new Newcastle manager. Whilst, any hope of Mike Ashley making a quick exit from the club seem unlikely, Rob Stewart explains how prospective buyers are withdrawing from the race. Making matters worse, Matt Lawton and Colin Young claim that Mike Ashley allegedly drunk his way out of a deal in Dubai.
Also struggling with drink issues is Paul Gascoigne, the Daily Mail bring the latest installment in the sad demise of the troubled star.
Reacting to last night's Champions League action, Paul Doyle was disappointed by Jonny Evans' failure to shine for Manchester United. More positively, Louise Taylor noted how Old Trafford welcomed back Cristaino Ronaldo – "On this evidence his perceived betrayal will be forgiven if not forgotten by those fans who have noted that, without him, United's start to the new campaign has been a little underwhelming."
The financial crisis, and its relationship to the Premier League, is again featured this Thursday. Martin Samuel writes of the madness of football finances – "A chairman attempting to apply the standard rules of finance to a football club will be castigated, although, bizarrely, few do." Barney Ronay looks at the disappearing sponsors on Premier League football shirts, but claims that panic is far from setting in. The same conclusion is drawn by Adam Smith for Time.com.
There is also a debate about Steven Gerrard. Tim Rich reports how "for a man with 23 minutes of football behind him, Gerrard's contribution was remarkable." But on the flip-side Harry Redknapp urges Fabio Capello to drop Steven Gerrard from the England team (spot the nepotism for the likely benefactor).
Lastly, Louise Taylor claims that any North-South divide in the Premier League is now more myth than reality, while  Antonio Labbate explains why Zlatan Ibrahimovic is Inter's true leader.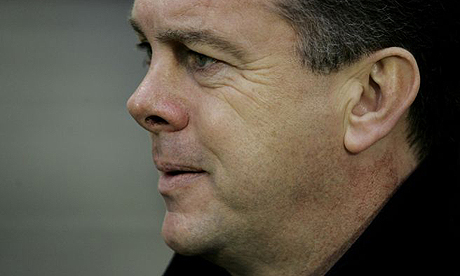 The Guardian's Louise Taylor reports that David O'Leary could be courted by Newcastle to return to football management, as she tries to identify to silver lining. "David O'Leary may be offered an opportunity to rehabilitate his managerial career at Newcastle United. Derek Llambias, the club's managing director, is a long-standing friend of the Irishman and he and Newcastle's board are giving serious thought to offering O'Leary a short-term contract… O'Leary, though, is extremely keen to get back into work after being out of football since leaving Aston Villa in 2006. The one-time Leeds United manager certainly has his critics but the 50-year-old did lead Leeds to the semi-finals of the Champions League and his teams have generally played the sort of high-tempo game which would appeal to Newcastle fans."
The truth however remains that these are troubling times for Newcastle, Rob Stewart (Telegraph) reporting that plans to sell the club are going badly. "The Newcastle owner's hopes of offloading the club to the Dubai Investment Group effectively vanished when DIG confirmed that they had not taken part in talks to buy the club, and had no plans to do so… The Newcastle owner was reported to have snubbed a meeting with potential buyers in Dubai because they were only ready to offer him £200 million – well short of the £481 million price tag Ashley slapped on Newcastle in documents handed to representatives of Dubai ruler Sheikh Mohammed bin Rashid Al Maktoum. In the wake of that disappointment, it emerged that a middle man, believed to be club vice-president Tony Jimenez, had contacted former Football League chairman Keith Harris to help find Ashley a buyer."
The Daily Mail's duo of Matt Lawton and Colin Young claim that Mike Ashley allegedly drunk his way out of a deal in Dubai. "Yesterday there were allegations that Ashley snubbed a meeting with a Dubai consortium and caused offence by drinking in public during Ramadan. These claims came as, back home, Wigan Athletic chairman Dave Whelan branded Ashley as unfit to run a football club and deserving of the stick he is getting. A photograph of Ashley allegedly drinking cocktails appeared on the Arabian Business website, with the claim that he had opted to head for the bar rather than a meeting with potential buyers. Associates of Ashley deny this but it was reported that the billionaire businessman refused to go to the meeting when he discovered they were prepared to offer only £200m. Ashley had asked for more than double that in documents handed to representatives of Dubai ruler Sheikh Mohammed bin Rashid Al- Maktoum."
Mike Ashley isn't the only person struggling with drink issues, the Daily Mail bring the latest installment in the sad demise of Paul Gascoigne. "Former England and Spurs legend Paul Gascoigne cut a tragic figure as he hammered on the door of a closed pub in Gateshead just after 9am this morning. Gascoigne, who is back in England after a month-long European bender, banged on the entrance of the Metz Experience Pub for 20 minutes and even tried to use his own keys to unlock the door. After smoking a cigarette he tried the back entrance before peering through the  window and tapping on the glass. After one final try at the pub's backyard gate, he gave up and made his way to a nearby off-license. The 41-year-old is back in his native Dunston, Gateshead, a week after he was treated in a Portuguese hospital for an apparent suicide attempt."
Analysing Manchester United's performance against Villarreal, Paul Doyle (Guardian) was disappointed by Jonny Evans' failure to shine. "Hoping to show that he should be the man to replace the suspended Nemanja Vidic at Stamford Bridge, all Evans was able to prove, in addition to the fact that he can venture up front to head against the post from five yards, was that he can stay awake if the going doesn't get going. Thing is, of course, that the going against Chelsea will be tougher than a tank full of Mr Ts. Through no fault of Evans's, then, the form pick to replace Vidic is probably – keep calm now, United fans – John O'Shea. He was imperious at centre-back for the Republic of Ireland in their recent World Cup qualifiers, in which he was genuinely tested, albeit not by teams of Chelsea's quality."
In the Guardian, Louise Taylor reports on how Old Trafford welcomed back Cristaino Ronaldo. "On this evidence his perceived betrayal will be forgiven if not forgotten by those fans who have noted that, without him, United's start to the new campaign has been a little underwhelming. Villarreal's Marcos Senna claims that United lose at least 30% of their power and potency when a free spirit capable of scoring 40 goals a season is not in the starting line-up. Few would have argued last night and when, by half-time, there had been no sight of Ronaldo emerging from the dugout to partake in even the gentlest stretching or jogging session regulars were becoming understandably fretful."
The Times' Martin Samuel writes of the madness of football finances. "Football is unique because two separate entities have to be satisfied and they are often pulling in opposite directions. If the club are making a fortune, but fighting relegation each season, the investors will be delighted, but the season ticket-holders will be up in arms; if the club are on the brink of the title, but behind the scenes the bank is about to foreclose, the supporters will be ignorantly delirious, but the directors mystifyingly forlorn. Football is the one business in which profit is frowned upon, because all money is required to be reinvested to chase an impossible dream. A chairman attempting to apply the standard rules of finance to a football club will be castigated, although, bizarrely, few do."
Barney Ronay (Guardian) looks at the disappearing sponsors on the Premier League football shirts, but claims that panic is far from setting in. "The current trend for the disappearing logo also tells us much about football and its miraculously self-sustaining revenue streams. Until now football has surfed above the credit crunch, its finances mysteriously fizzing with independent life. During the summer transfer window, record amounts – some estimate as much as £500m – were spent by English clubs. For now, at least, it's still all boom at the very top. Disappearing sponsors notwithstanding, this looks set to continue for a while. Early kit deals may have opened up a vital new source of revenue. But this was in the pre-hyper inflationary days when even the big clubs wrestled annually to balance their relatively meager turnover. Space on Manchester United's shirts is currently leased out for close to £10m a season, but this is hardly make-or-break money. The disappearance of AIG would simply be an inconvenience, or an opportunity for a merchandise-shifting rebrand. These days the kitty is stocked by TV rights deals, billionaire owners and the global merchandising arm."
From Time.com, Adam Smith also looks at the fading sponsors in the Premier League. "Consider the line up: local bank and Newcastle United sponsor Northern Rock had to be nationalized in February after it was caught short of cash when the money markets seized; on Sep. 12, Britain's third largest tour operator XL went bust leaving London club West Ham United without a shirt sponsor; and now insurance giant AIG, shirt sponsor at English and European club champions Manchester United, is teetering on the brink of collapse… And despite this week's market meltdown, companies will still be keen to buy the special brand of magic that sports teams offer. Citigroup stumped up some $400 million to tag its name to a new stadium that baseball team the New York Mets will play in from next year. And British lender Barclays — who backed out of talks over a possible takeover of troubled Lehman Brothers last weekend — lavished a similar sum for the naming rights to the New Jersey Nets' planned Brooklyn basketball arena. If that sounds risky, consider its exposure in its home market: the U.K. bank is the proud sponsor of the English Premier League."
The Telegraph's Tim Rich heralds the return of Steven Gerrard, after his superb midweek shift at Marseille. "In his newly-published autobiography, Jamie Carragher suggested that only Kenny Dalglish could compete with Gerrard for the title of the best footballer ever to have worn the red of Liverpool. And reflecting on his 102 caps for Scotland, Dalglish concluded that his international career was a disappointment and nobody on the Kop cared. By his own admission, Gerrard has suffered a 'nightmare pre-season' that culminated in a groin operation that cost him one game at Aston Villa (Liverpool, typically, struggled without him) and two for England (in which he was not missed at all). Marseille represented his first start since and for a man with 23 minutes of football behind him, Gerrard's contribution was remarkable."
In The Sun however, Portsmouth manager Harry Redknapp urges Fabio Capello to drop Steven Gerrard from the England team. "If I were England boss, I'd have to make a brave decision and put Gerrard on the bench. He is going to have to bite the bullet and accept there is no place for him at the moment. It is just a harsh reality of the football world. I'm sure Steven would take it squarely on the chin and realise he'll be back in the side sooner rather than later… There is no bigger fan than me of Gerrard. But if Capello claims he does not pick teams on reputations then this is a big test of that philosophy." (Need we point out the the likely beneficiary of this approach would be Frank Lampard, Redknapp's nephew!)
In an offbeat article, Louise Taylor (Guardian) claims that any North-South divide in the Premier League is now more myth than reality. "The enduring myth that a north-south divide makes it tough for clubs outside London to attract top talent is exploding. Whether he parks his fleet of blacked-out windowed, personalised number-plated 4x4s and Baby Bentleys in Harrogate or Hornchurch, a Premier League footballer's lifestyle is pretty homogenous. However powerful the lure of London, a world city, how many Arsenal or Chelsea players actually live within the congestion-charge zone? Most reside around the M25, in "anywhere" places such as Cobham, St Albans, Brentwood and Sevenoaks."
Moving onto calcio, Antonio Labbate explains why Zlatan Ibrahimovic is Inter's true leader. "The real Ibra turned up in Athens last night, the man who Italian football enthusiasts admire and not the player who uneducated pundits outside of the peninsula disgracefully take pleasure in mocking. When fit, Ibra – the highest paid footballer in Italy – is worthy of the Golden Ball. He certainly has his weaknesses as a player and as a man, yet Ibrahimovic is a unique specimen in not only Serie A but in world football. Not many players with size 13 boots can do what he does."
Click here for more Premier League betting tips
---