Did Cristiano Ronaldo aim a "F*** you" at Jose Mourinho after 1st goal v Malaga?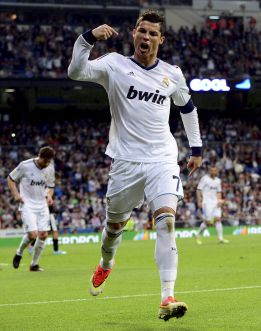 Cristiano Ronaldo's celebration for his first goal against Malaga should have been a celebration of 200 goals in Real Madrid colours.
After all, Ronaldo reached this record in just 197 appearances for the Spanish giants, a truly remarkable record.
However, the indirect free-kick goal has since turned into a question over what Ronaldo's celebration meant.
As we reported last night, Ronaldo appears to suggest that he is staying at Real Madrid with a celebration that included the words "Yo aquí, yo aquí" – effectively "I am staying here."
After the initial emphatic burst from the Portuguese forward, Spanish TV station Cuatro believe Ronaldo aimed a barb at Jose Mourinho on the Real Madrid bench.
Lip readers for Cuatro have claimed Ronaldo said "Foda-se" – which is the Portuguese for "F*** you."
The shot of the Real Madrid bench after the celebration, shows Mourinho and his assistants looking rather glum but Aitor Karanka dismissed any suggestion of animosity after the match, claiming Ronaldo always looks to the bench after scoring.
As if Real Madrid needed more controversy right now!
---