Dean Windass tries a new tactic to defend against Rory Delap's throw-ins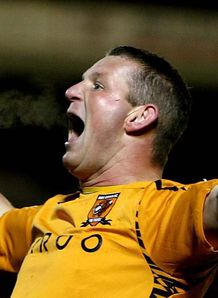 One of the big stories of this Premier League season has been Stoke City's use of Rory Delap's incredible throw-ins to unsettle defences throughout the top flight and score goals.
There have been several different theories floated as to how teams can best defend against this tactic including zonal marking and having players positioned on the goalline. However, yesterday, Hull's Dean Windass showed off a new defensive measure which teams can use against the "Delapathon" which may or may not be adopted by other teams this season.
Windass, a substitute in the match, attempted to kill two birds with one stone by intentionally warming up right next to (and in front of) Rory Delap just as the Irishman was gearing up for his trademark throw-ins. In a brilliant piece of action, Windass brazenly performed his stretches while standing in the way of Delap's run-up, however after initially pulling the stunt the forward was booked for his behaviour on the second attempt.
Eye-witness footage captured the action unfold, and the video can be seen here.
Best football betting tips & free bet offers
Click here for more Premier League betting tips
---