David Moyes cites bad luck for Man United's poor season in his programme notes v Fulham [Picture]
Manchester United fans may be a little disappointed with the opening paragraph of David Moyes' programme notes on Sunday.
Ahead of the game against Fulham, the Man United supremo faced the currently daunting task of writing a short essay to the supporters in the matchday programme. Unable to avoid talking about United's disappointing season, the boss cited a lack of Lady Luck as his start-off point to addres sthe club's troubles.
Moyes wrote:
There is no doubt that the ball has not been rolling for us this season and we have not had an even share of the breaks.
My principles have always been that the harder you work, the luckier you become, and I do think we have to follow that philosophy… and ensure that… the balls starts breaking in our favour. 
Some fans may have wished their manager would address other issues in his notes, for example his thoughts on last week's study that showed United lead the league in the most changed-up side in the division, which has never played the same XI in back to back weeks.
A copy of the opening of David Moyes' programme notes v Fulham is below.
(Via @ConorMcNamaraIE)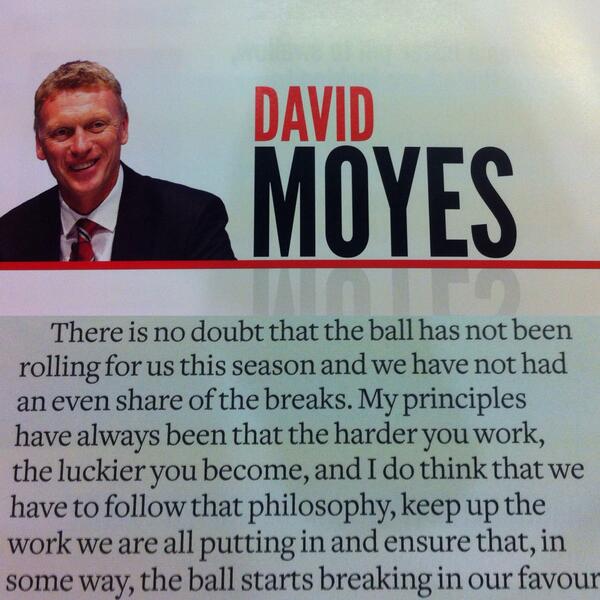 ---
GAMBLING CAN BE ADDICTIVE, PLEASE PLAY RESPONSIBLY