Daniel Levy Spurs statement: New stadium will open 2017 & "No major summer upheaval"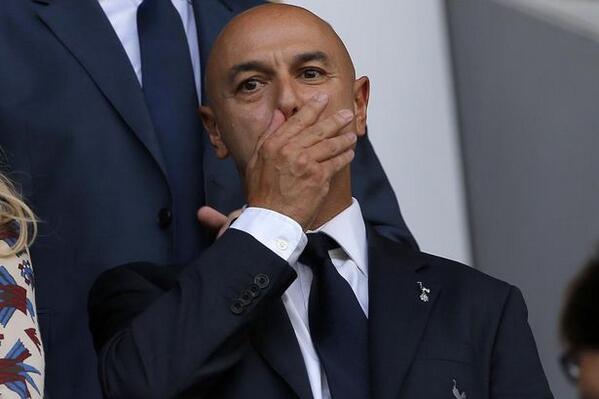 An official Tottenham statement dropped in the early hours of Wednesday morning, with a whole host of intriguing comments from the club and chairman Daniel Levy.
It has been a problematic few weeks for the Lilywhites who were thrashed at Anfield on Sunday and are all but out of the race for the top four despite serious investment in the playing squad last summer.
And, chairman Daniel Levy has been the scapegoat for many fans who have questioned whether Andre Villas-Boas should have been sacked earlier in the season and why there have been few public announcements around the redevelopment of White Hart Lane.
The full "Financial results and shareholder and stadium update" can be seen here.
Since the 5-year shirt sponsorship deal with AIA is well known, there appears to be two intriguing comments from Levy's statement besides the fact that ENIC have supported Spurs by way of an interest free, unsecured loan of £40m.
(Effectively, ENIC will invest in the stadium but do not appear to be willing to finance the first team squad, which can operate on a profit itself.)
There is the announcement that Tottenham hope to have redeveloped White Hart Lane by Summer 2017 and that there will be fewer changes at the club this summer – does this mean Tim Sherwood will remain as manager?
Best of the Tottenham statement and Daniel Levy announcement below:
On the stadium: "It is a major development that will present ongoing challenges and subject to these challenges being manageable we anticipate going out to tender for construction late this year which will make a stadium opening date of Summer 2017 feasible."
Daniel Levy, commented, (101GG has added bold for what we believe to be the key points.)
"Our financial position is key to ensuring we can continue to thrive both on and off the pitch and we have taken the necessary, prudent steps to ensure that we are in a secure financial position as we move forward.
"At the time of this announcement, we are in sixth position in the Premier League and it has been another season when the top four places have been fiercely contested by at least seven teams. It is no surprise that the English Premier League is the most watched League in the world as every season the fight for a top four UEFA Champions League place becomes more competitive.
"We have come far in the last decade – we have raised our expectations from a Club aiming to be in the top half of the table, to competing in Europe each season – to the point at which we find ourselves disappointed if we don't make Champions League.
"This season we have had to make significant changes, both in respect of coaching and playing staff and yet we are currently only two points less than last season's tally. Whilst this season's performances and results have not lived up to expectation, we believe our squad has potential and it is important that we all now show commitment and teamwork to get the best possible finish to the season.
"We have fantastic, strong support. Our current 36,000 seater stadium sells out and the waiting list for season ticket holders is currently in excess of 47,000. We cannot stress strongly enough how critical the new stadium is over the long-term to these raised expectations. We have the smallest capacity stadium of any club in the top 20 clubs in Europe, let alone the current top four Premier League clubs, and given we now operate within UEFA Financial Fair Play rules, an increased capacity stadium and associated revenues is fundamental to supporting the future ambitions and consistent achievement at the top of the game.
"Our focus therefore is to continue to invest in and develop the squad – we shall not look to a summer of major upheaval, but rather to strengthen in key positions – to play the style of football for which we are famous – and to deliver the new stadium.
"The new stadium is a landmark project, of importance not just for our Club , but to the regeneration of an area which has been our home for more than 132 years and to London as a whole. It will be a key regenerative component of the local economy and a significant tourist attraction in its own right.
"To anyone visiting Tottenham today, our commitment to delivering the new stadium project and associated regeneration is clear for all to see – Phase 1 is built, the Club-sponsored Tottenham University Technical College is due to open this Summer, 447 jobs have been delivered to date and some 9 acres have been cleared in readiness for the stadium development. We eagerly await the outcome of the CPO decision by the Department of Communities and Local Government.
"We are optimistic for the long-term future and believe our efforts will make this great Club even greater over time. Our supporters are our life-blood and we shall ensure that they are our most important stakeholder as we move forward."
---
GAMBLING CAN BE ADDICTIVE, PLEASE PLAY RESPONSIBLY