Cut the tension with a knife: Gerard Pique (Barça) brushes past Alvaro Arbeloa (Madrid) at Spain training (first meeting since Twitter clash)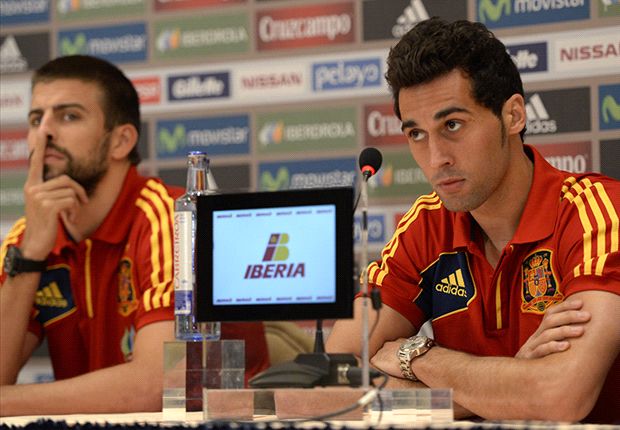 There's no love lost between Barcelona's Gerard Pique and Real Madrid's Alvaro Arbelo.
With all the accumulated baggage from the last years' Clasicos, the pair essentially tolerate each other when it comes to joining up together in Spain's defensive line at international level.
More, this week's meeting between the pair at Spain's training camp had the added spice of some subversive twitter trolling back and forth after Real Madrid's now infamous 'Robo' at Elche.
Pique had laughed at the refereeing decision with a cheeky tweet, Arbeloa had replied with a tweet of his own about Barcelona's theatrics).
The clip below shows just how cold things have come between them.
When everyone is called in for a group discussion, everyone runs to the point, and with Arbeloa just behind Pique, the Catalan watches his back, almost paranoid Arbeloa would try to trip him.
When everyone then disperses, Arbeloa cheekily appears to block Pique's path, and Pique makes no bones about brushing against his shoulder, followed by a wry glance over his shoulder.
Cut the tension with a knife!
[gthumb id="363372″ size="large" autoplay="1″]
---