Crystal Clear: Neil Warnock rants, and this time he has a point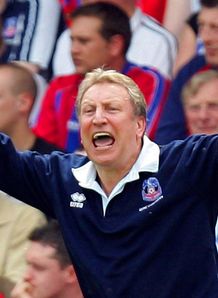 Crystal Palace manager Neil Warnock is hardly known for being placid. The vocal, straight-talking, and often aggressive manager is one of the great love-hate figures in British football, and the tendency is to ignore the usual rants which Warnock barks.
But (for once) the Eagles boss looks to have the facts on his side.
Warnock was spitting fire following Palace's 4-1 home defeat at the hands of Ipswich after the officials failed to award a penalty early in the second half for Tommy Miller's foul on Nick Carle. Trailing 2-1 at the time, Palace's Carle found himself clean through on goal inside the box only to be brought down by a tackle from behind from Miller.
Such was his anger, Warnock brought one of his backroom staff to his post-match press conference to show journalists video footage of the incident, which he claimed should also have produced a red card for Miller.
In his tirade Warnock hammered referee Clive Penton claiming that the ref was too unfit to keep up with the play, which in turn lead to the shocking decision.
Warnock: "I'll be speaking to whoever is in charge of him (Penton) to find out why he hasn't given it. I have my own ideas about that but I won't  share them because I could end up getting fined. He's retiring this season so I can't expect he'll be kept on. He's not one of the elite, is he? So he'll probably have a job… Miller got nowhere near the ball and it's criminal, the decisions we're not getting at the moment. How the hell can't you see things like that? I think experienced referees should stay on but if Clive's not fit enough to keep up with play there, that's not on. That's not my fault, that's down to his fitness. I know it's his last year [as a Football League referee] but he has to be better than that."
The incident can be seen here.
---
GAMBLING CAN BE ADDICTIVE, PLEASE PLAY RESPONSIBLY