Cristiano Ronaldo's movie in numbers: 3:45 minutes shirtless, 19 seconds with Man United [WSJ]
The Wall Street Journal have decided to breakdown Cristiano Ronaldo's movie into numbers to give a statistical analysis of how his new documentary invests it's 89 minute film time.
The numbers create a framework for how Cristiano wanted to portray himself to the world.
Perhaps surprisingly, Ronaldo spent a whopping seven minutes and twenty eight seconds in his movie wearing a suit or tuxedo.
By contrast, he only spent an extra five seconds (7:32 minutes) wearing the colours of Real Madrid.
Looking at his other footballing moments, the 30-year-old superstar invested three minutes and six seconds with Portugal, one minute and thirteen seconds on Sporting Lisbon, and just nineteen seconds with Man United.
Noticeably, Cristiano spent three minutes and forty-five seconds with no shirt on, two minutes and twenty-five seconds on private jets, and one minute and seven seconds singing to a Rihanna song.
Leo Messi also received two minutes and thirty seven seconds of airtime.
See the full breakdown of numbers below.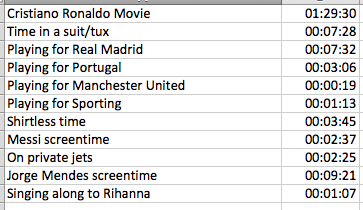 Click here for more Premier League betting tips
---