Cristiano Ronaldo publishes the worst Tweet of the season!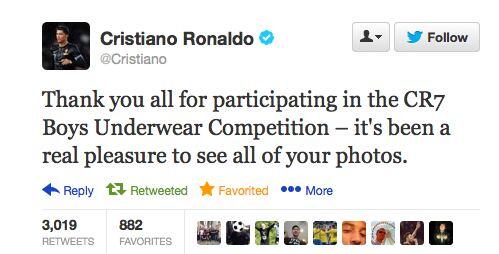 Now since removed, the Tweet above was live for a few minutes on Tuesday afternoon.
Ronaldo, or those that run CR7's social media, are publicising his own range of underwear and despite the rather large FAIL above, have pushed the business venture today on Instagram and Facebook.
The competition had been to "Upload your best, craziest and funniest fan image showing your love for CR7 and win a trip to meet Cristiano Ronaldo and seen him play a match!"
We can but speculate over whether Cristiano Ronaldo will be sacking the person responsible for surely the worst Tweet of the season!
Meanwhile, Cristiano Ronaldo has been speaking about Gareth Bale in the lead-up to Real Madrid v Juventus.
Click here for more Premier League betting tips
---