Cristiano Ronaldo has a boot-gasm unboxing his new Mercurial cleats from Nike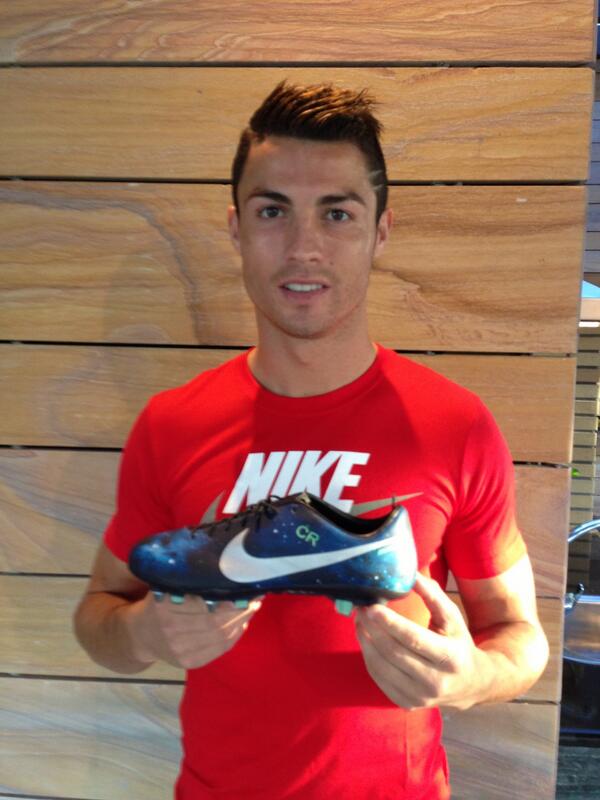 This is why Cristiano Ronaldo gets the big bucks!
Nike released their new CR7 Mercurial IX boots on Sunday night and got their star man to front a video that will no doubt encourage many of you to buy the footwear.
Here is some of the Nike blurb:
Nike's latest version of the Mercurial boot celebrates the super-charged speed and on-pitch dominance of one of the world's greatest players, Cristiano Ronaldo. Featuring a 'supernova' print, the Nike Mercurial IX CR7 Boot and 2013 CR7 Collection take inspiration from the Portuguese star's unique style of play.
"We were watching a game, and after Cristiano scored yet another amazing free-kick the commentator posed the question 'Is Ronaldo from this planet?!'" remembers Denis Dekovic, Nike Footwear Design Director. "When we got back to the design studio we got to thinking about CR7's style and how similar it was to the definition of a supernova – a celestial body that radiates energy – and that was it, we had our inspiration."
"The concept of a star that burns brighter than others reflects Cristiano's style, speed and the idea that as a player he plays without limits, much like the outer reaches of the galaxy. What Cristiano is able to achieve on the field is something that we felt was limitless. So we took that direction and focused on creating a highly luxurious finish fused with modern print and color choices," added Dekovic.
The Mercurial IX boot features an all-over digital print of the Star Vela Supernova and includes a seven star path print, paying homage to Cristiano's shirt number. The supernova print is juxtaposed with a chrome swoosh flecked with silver fleck and a Blue Glow outline.
"It's great to collaborate with Nike. It gives me added confidence to know that they take my thoughts to create the best boot for me," said Cristiano Ronaldo. "In addition to the way the boots perform, it's also cool when we create something that represents my personality and style of play. It's a very special relationship."
---
GAMBLING CAN BE ADDICTIVE, PLEASE PLAY RESPONSIBLY