Cristiano Ronaldo on Messi jibes from Denmark fans: "This time last year, he was out the Copa America."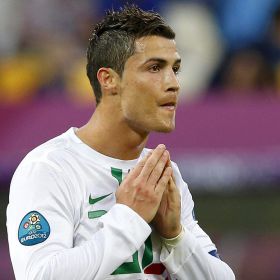 You can't fault Cristiano Ronaldo for self-confidence.
Even after missing a sitter against Denmark, Ronaldo came out fighting with some sensational quotes after Portuguese journalists asked him about the Danish fans who had chanted "Messi" during the Group B Euro 2012 encounter.
Ronaldo: "This time last year Messi was eliminated from the Copa America which they were playing at home. That's worse right? I'm here fighting to move on to the next round of the Euros."
It has already been pointed out on a number of sites that Ronaldo is in fact incorrect since Lionel Messi & Argentina were still in the Copa America a year ago. They were knocked out on penalties by Uruguay on July 16, 2011.
The Real Madrid forward also said: "I would feel good if Portugal won the Euros and I didn't score a goal."
Audio in Portuguese of the controversial Cristiano Ronaldo jibe about Lionel Messi is here.
Cristiano Ronaldo's miss v Denmark in gif format.
---