Cringeworthy: Carlos Queiroz replies to the Black Eyed Peas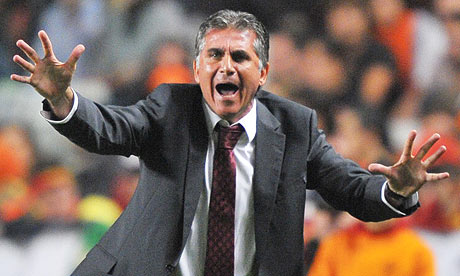 At the end of last week we brought you the bizarre footage of pop-band the Black Eyed Peas throwing their weight behind Portugal's 2010 World Cup campaign, as the four-piece backed the Selecao to win in South Africa. (See here.)
The Black Eyed Peas were moved to make their cheesy video after it became public knowledge that Carlos Queiroz's side adopted the BEP's pop anthem "I've Got A Feeling" as their song before matches. And since receiving the band's warm words of support, coach Queiroz has found time to make a terribly cringeworthy response video which has since also been posted on YouTube.
Dressed like a "cool" dad with his hair slicked back and donning a pose that Paris Hilton would have been proud of, the former Real Madrid boss introduced himself with "I am Carlos, the nation team coach of Portugal… " before saying "the music, the song, the words. Brilliant!"
And then came the puke-in-bucket moment, as Queiroz finished his short response by clenching a fist over his heart and proclaiming "I've got a feeling!"
Carlos Queiroz's horribly cheesy video can be seen here.
---