Copa America Final, Uruguay Pride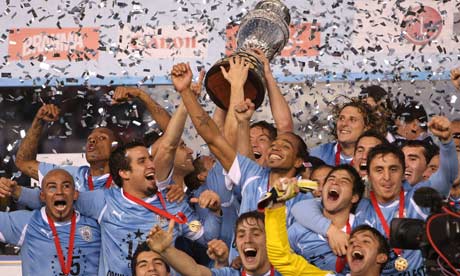 (By Paul Morrissey – Follow on Twitter here.)
In the end, maybe Los Guarini had something of a crise de conscience.
They might not always show it, but they must love football too, and maybe something deep in the Paraguayan sub-conscienceness told them that to win this Copa would be ultimately damaging to the sport they've devoted their lives to.
I'm not for one second suggesting they threw the game; they were out for the draw-penalties combo par excellence (they spent their last training session smashing penalties into the cobwebs). Survival instinct will always out: even after confessing "That woman deserves her revenge… and we deserve to die," Budd still buried Black Mamba alive (Kill Bill Vol II). But once Suarez scored on thirteen minutes for Uruguay, you sensed a resigned, beaten attitude in the Paraguayan hearts and minds.
That, and the fact that they again left their best attacking player, Estigaribbia, on the bench until it was all over.
Who cares? Uruguay are Copa America champions and, with a characteristic sense of occassion and history, overtake Argentina, in Argentina, in Copa titles. While the Celeste have two stars owing to their two World titles, it's their consistency in the Copa America which now rightly defines their identity. And this one is, above all others, maybe the greatest of them all. Un ejemplo para todos.
We are more like a club team than a selección (Diego Forlan)
Convivencia: Uruguayans enjoy each other's company. This cultural trait is the foundation of Uruguay's modern success. This has always been important to their cause, but definately less so in their winning two Wolrd titles. Both 1950 (Brazilian hubris) and 1930 (who really knows?) stand out as those quirky Years of Uruguay, but let's be clear: what they're doing today is of far greater import.
And it's really this convivencia that sets them apart from other top nations in international football, both within their ranks and in their relationship with their partisan public. You can't bottle that garra, that inimitable want to be there, that unwavering belief that they are in the best possible place in the world when they're representing their country. It's incredible to watch.
The way they all piled in on the ball in the first minute of the final, like a ruthless pack of wolves after a fresh carcass when the ball bounced loose from a corner; the way Suarez attacks and demands every ball, like a dog after hot chips; the way Diego Lugano's pupils became progressively dilated as the Copa wore on; the way Forlan will always have the moral courage to take a shot on regardless of form. One in, all in.
Suarez will rightly take the plaudits for his excellence in leading the line (it's time he got naming rights on his 180° swivel, no one else does this),  but it's Forlan who really personifies the Uruguyan garra. Unlike many, I don't think he's a great player, but he doesn't need to be: he plays like one. He was enigmatic throughout the Copa – reincarnating his History of Uselessness (United years) in open play, transforming into Diego Forlan World Cup MVP from set-pieces (from which he's quite possibly the current world's best).
He missed chance after chance in the opening games (Suarez's rebounded goal against Peru came from a Forlan shot that was going wide) but he stuck at it. Nothing was said of his worst missed chance in the opening match against Peru as is the cultural norm in Uruguay; Why would we berate our folk hero? Convivencia.
Compare this to, for example, with The "Darren Bent Miss". Don't play dumb, you know the one. Darren Bent missed a chance against Switzerland and it provoked a national discussion in England. Forget the goals: Did you see the Darren Bent Miss?  There's an unspoken, tacit trust between fan and player that allows La Celeste to express themselves in serenity.
"La Nuestra" VS "Nosotros"
Tabarez's "Nosotros" (Us) doctrine may sound like an attempt at keeping up With the Jones's vis-a-vis Argentina's "La Nuestra" (Ours), but it is in fact the mirror opposite of their neighbours', the similarity in wording a mere coincidence: where Argentina's "ours" implies a style first and foremost, Uruguay's implies a collective ethic ahead of any distinct playing style. They apply themselves and the style looks after itself.
The irony of the Celeste's smooth progress to the final, though, is that it may have turned out differently had it not been for the injury of Edison Cavani.
Cavani was out on his feet on arrival in Argentina yet Tabarez still felt obligated to find space for Uruguay's player of 10/11; and after the spectacular season he and Napoli had enjoyed, during which they'd made a cottage industry of winning games in "Mazzari Time" – es normal no?
The thing is though, with all three forwards so ritually accustomed to forming a partnership with their clubs, they appeared unsuited to the workings of the 4-3-3.
The silver lining behind the cloud of Cavani's injury (mid-game against Chile, second game) was that Tabarez could now revert to the more traditional 4-4-2 and allow Suarez-Forlan to recreate their understanding, with great support provided by Alvaro Perreira in an advanced left-sided position.
They're a bit nineties in that respect, a reasonably flexible 4-4-2 built around a reciprocal front partnership (United '99, Inter '97). Tactically, both in preparation and demonstration, Uruguay had just about the perfect Copa.
Sebastien "El Loco" Abreu played his part too. He is going to release a video of life inside the Copa Champions.
Beyond replicating Uruguay's consumption of red meat, it may prove futile viewing for European underachievers. You can't bottle la garra.
---