"City's stock should be high; instead Thaksin has turned them into a laughing stock"
Comment & analysis round-up
Quote of the Day: "There are lots of players with big egos and some of them might not want to put their neck on the line… We're a little bit behind in bringing players in. We have found it a little bit difficult to bring in the quality that we want. It's highlighted one or two weaknesses we have as a football club, but we are growing. We are looking to push on and improve on what we've achieved. There is money [available] but it's finding the right ones." – Tony Pulis.
Runner-up: "My ambition has always been to play for my national team and I believe that playing in the biggest league in the world for Aston Villa will help me realise that. The Rangers supporters have been fantastic but I am young and want to play at the highest level and I hope they will always welcome me back. I want to thank them for everything." – Carlos Cuellar.
Today's overview: Manchester City find themselves in turmoil this morning, with the club in a state of flux and rumours circling that all point to a destabilised club.
Andy Hunter splashes with the news that the Premier League may be forced to remove Thaksin Shinawatra from Manchester City, should he fail the FA's fit and proper test, adding "Shinawatra's legal and political problems have radically altered the ambition that enticed Hughes from Blackburn Rovers 10 weeks ago." The picture gets more murky as Oliver Kay reports how "John Wardle, the former chairman, was required to lend the club £2 million last month so that staff could be paid."
Henry Winter bitterly appraises the malaise at Eastlands, claiming "Thaksin has brought embarrassment on City and English football." Ian Herbert pops up with his report as to why Michael Johnson missed playing against AC Milan because of a misunderstanding with text messages. While Neil Custis offers the final word on events at Eastlands, with his "sources" revealing that Mark Hughes is ready to walk.
Martin Samuel and Sam Wallace both report on Fabio Capello's most recent press conference, in which the Italian brushed aside questions about Wayne Rooney's smoking habit.
In other Premier League news, Kevin McCarra goes straight for the jugular claiming "neither Arsenal or Liverpool have the strength in depth to challenge for the title." Matt Hughes discusses how Chelsea will line-up next season, with Neil Ashton floating the transfer rumour of the day, links Joe Cole with a move to Anfield. On Manchester United, Jeremy Wilson has a powwow with Gary Neville and Ian Wright comes out in support of Thierry Henry's proposed move to Old Trafford.
Finally, James Morrison reports on Football Punk – the new football magazine in England "that is aiming to challenge Four Four Two for the title 'thinking man's soccer mag' with some daring content – including 'at home with' interviews that wouldn't look out of place in Hello! or OK!"
The Guardian's Andy Hunter splashes with the news that the Premier League may be forced to remove Thaksin Shinawatra from Manchester City, should he fail the FA's fit and proper test. "The Premier League is facing an unprecedented trial of its fit and proper persons test after arrest warrants were issued for the Manchester City owner, Thaksin Shinawatra, in Thailand yesterday… In what would be an unprecedented case the Premier League would take legal advice before making a decision that could result in Thaksin having to sell his stake in Manchester City. Whether the league would recognise a conviction in Thailand should Thaksin receive political asylum has yet to be determined. The league could yet be spared that difficulty if Thaksin elects to sell the club, although a City spokesman yesterday said the businessman has no such plans."
In a supplementary article, Andy Hunter discusses how Thaksin Shinawatra's problems are affecting Manchester City at large. "Thaksin Shinawatra's legal and political problems have radically altered the ambition that enticed Hughes from Blackburn Rovers 10 weeks ago… Doubts over Thaksin's ability to realise his goal of taking City into the Champions League hardened last week when it was confirmed he had appointed an intermediary to hold 'exploratory discussions' with several potential investors, believed to be based in the Middle East and India, who can also help promote the club as a global brand."
The problems mount for Manchester City in The Times, with Oliver Kay reporting how "John Wardle, the former chairman, was required to lend the club £2 million last month so that staff could be paid… He has since been repaid in full, with all staff having received their wages, but the club's apparent need to accept his offer of a short-term loan suggests that City's financial position is even more parlous than recent revelations had suggested."
Henry Winter offers his forthright opinion on Thaksin Shinawatra in the Telegraph. "Leaving aside images of rotten apples, what is beyond dispute is that Thaksin has brought embarrassment on City and English football. The sooner the Premier League's chief executive, Richard Scudamore, sits down with Thaksin and tells him to quit English football, the better… The frustration with Thaksin's presence at Eastlands is that City were so close to being hailed as a serious club again. City's stock should be high; instead Thaksin has turned them into a laughing stock."
The shambles at Manchester City is further examined by Ian Herbert (Independent), who reports on why Michael Johnson missed playing against AC Milan on Saturday. "The fans' jitters were not eased by a farcical sequence of events on Saturday which gave rise to rumours of Ireland's exit, too. Danny Mills, back from his latest loan spell, at Derby, declared live on Five before coverage of City's friendly against Milan that the Irishman had failed to show up and appeared to be leaving the club, but he was not furnished with some farcical pre-match events. Hughes, it seems, had told those players not selected for his squad, named on Friday, to expect a text message on Saturday if they had been stood down from substitutes' duties. Ireland, selected in Hughes' first XI, misunderstood, expected a text message and did not turn up when it did not arrive. He was then surprised to find Mark Bowen, Hughes' deputy, on the phone asking why he had not shown."
The Sun's Neil Custis offers the final word on events at Eastlands with his "sources" revealing that Mark Hughes is ready to walk. "A City source said: 'This is not the dream package sold to Mark. The club is falling apart and nobody knows how much longer Shinawatra will hang around. It feels as though we're in meltdown and all Mark is trying to do is hang on to everything for the sake of the club. But if it carries on — and players are sold without his consent — he won't stand any more. He'll just walk.'"
The scribes at When Saturday Comes, who focus in on Everton's struggle to attract players during the transfer window, make some excellent points about the merits of foreign ownership. "There is no reason to think that wealthy owners don't cause more problems than they solve. Indeed, Everton had a moneybags backer a decade ago in hamper millionaire Peter Johnson who left the club with colossal debts. Everton's finances have nonetheless been managed well enough to allow them to break their transfer record in each of the last two summers. In the meantime, a manager whom Kenwright has stuck by through some thin times has taken the team to three top six finishes in the past four years. Maybe David Moyes would have done even better if the club was owned by some international financier with homes in every continent. It's equally likely that Everton would be on their fourth manager in as many years and marooned in the bottom half of the table, or worse."
In The Times, Martin Samuel reports on Fabio Capello's press conference yesterday, in which the England manager revealed his support for marriage and his indifference to player's smoking. "Further quizzed on whether he preferred his players to be married, Capello concurred, and did a lot of genial mugging that implied that Colleen would have her husband on a short leash. Then the subject turned to a recent photograph that showed Rooney drawing on a cigarette and Capello's lack of interest in making a judgment revealed that the difference between football people in Europe and Britain is not merely a matter of tactics or technique. The fact is, smoking is not seen as the great taboo for a sportsman abroad that it is here."
Sam Wallace, who also attended Capello's press conference, gives his version of events in the Independent. "There is certainly no confidence lacking in the manager who was speaking at an event held at Wembley by the Football Association's 'community partner' McDonald's. We are obliged to mention the FA's generous sponsor who expected a little something in return for giving 900 children the chance to run around on the Wembley turf yesterday. They may not be the first global business you would associate with the pursuit of sporting excellence but then neither would you expect to see England's most talented player having a cigarette on his summer holiday."
Kevin McCarra (Guardian) pulls no punches believing that "neither Arsenal or Liverpool have the strength in depth to challenge for the title." "Arsenal, like Liverpool, could contend forcefully for the European Cup. Nonetheless, the financial restrictions make it improbable that Wenger's team will take the Premier League and if cash ever does flow freely one doubts whether the ascetic Frenchman's pride will allow him to spend it so gaudily in the transfer market as Manchester United or Chelsea."
Matt Hughes (The Times) discusses how Chelsea will line-up next season. "In an attempt to shoehorn Frank Lampard, Michael Ballack, Michael Essien and Deco into midfield, the Brazilian is planning to start the season with a 4-1-4-1 or 4-2-3-1 formation, which relies on the full backs to provide width. Bosingwa is the most attacking full back at the club and is likely to flourish in such a system, while Ashley Cole can also look forward to being given more licence after his natural instincts were stymied by José Mourinho and Avram Grant."
Staying with Chelsea, Neil Ashton (Daily Mail) floats the transfer rumour of the day, linking Joe Cole with a move to Anfield. "Joe Cole is demanding assurances over his future from Chelsea manager Luiz Felipe Scolari after Liverpool declared an interest in the England midfielder. Cole fears he will be frozen out of the starting XI when the Barclays Premier League season starts against Portsmouth on Sunday and he has also been spooked by the potential arrival of Robinho. Liverpool boss Rafa Benitez, who believes he has been priced out of a move for Aston Villa's Gareth Barry, is aware of Cole's predicament and is prepared to make a move if Chelsea indicate a willingness to sell."
In the Telegraph, Jeremy Wilson has a powwow with Gary Neville. "I think the players interchanging and the way in which they do is different than United teams I've played in the past. The front three or four now seem to be able to play in all positions and it's difficult for opponents and defenders of the other teams. They don't know who they're going to be playing against from minute to minute let alone match to match."
Staying with the champions. Ian Wright (The Sun) comes out in support of Thierry Henry's proposed move to Old Trafford. "Of course, Arsenal fans would be devastated if Henry joined their biggest rivals. In their book, there is no worse crime. But look at this sensibly. Thierry, who turns 31 on Sunday, still has bags to offer and only a few years left to show it. For one reason or another, he hasn't had the kind of success at Barcelona he'd have probably hoped for. If he is out for one last move, then he will want to come back to England where everyone loves him and he can be the main man again. Other than Arsenal, there's only one team for a player of that calibre — and that's United."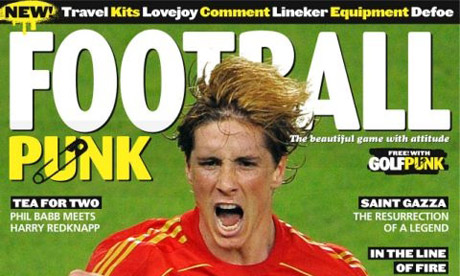 James Morrison reports on Football Punk – the new football magazine in England "that is aiming to challenge Four Four Two for the title 'thinking man's soccer mag' with some daring content – including 'at home with' interviews that wouldn't look out of place in Hello! or OK!" "Football Punk kicks off this week with a taste of what's to come, including a cosy tête-à -tête with Portsmouth manager Harry Redknapp over tea at Pompey. Key to the magazine's appeal, according to the editor, Ian Cruise, will be the encyclopedic contacts book of its owner and editor-at-large, former Liverpool and Republic of Ireland defender Phil Babb."
Click here for more Premier League betting tips
---