Christoph Kramer to Nicola Rizzoli: "Referee, is this the World Cup final?"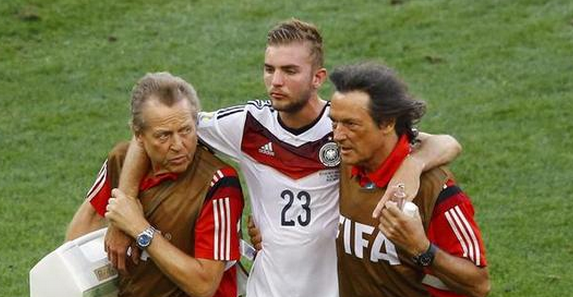 Earlier this week we reported how Germany midfielder Christoph Kramer was so concussed during the World Cup final that he completely forgot the first half.
Kramer was a late addition to the Germany starting XI when Sami Khedira pulled out injured in the warm-up.
But, an elbow from Ezequiel Garay left Kramer in a poor state and he collapsed ten minutes after the collision before eventually being replaced by Andre Schurrle.
Today, World Cup final referee Nicola Rizzoli has revealed that he also ordered Kramer off the pitch, when the Borussia Monchengladbach midfielder asked him: "Referee, is this the World Cup final?"
Rizzoli was interviewed by Gazzetta dello Sport today and his comments have been re-produced in Die Welt.
Rizzoli: "Shortly after the Garay collision, Kramer came to me and asked if this was the World Cup final."
The official goes on to say that he thought Kramer was joking.
"I went to Schweinsteiger, and instructed him to have Kramer replaced," added Rizzoli.
The Italian ref also revealed that after the game, Kramer came up to Rizzoli and thanked him for ordering that he be substituted.
---
GAMBLING CAN BE ADDICTIVE, PLEASE PLAY RESPONSIBLY