Chelsea's vocal initiation for Bosingwa & Deco
Comment & analysis round-up
Quote of the Day: [On singing in front of the Chelsea squad.] "Bosingwa was shocking, Deco did all right. Two of the manager's staff went up and they got a guitar out and everything – it was a Brazilian song. It might sound silly to some people, but it's been a tradition at the club for years and it maybe helps people settle in. When the lads first arrive and hear what they have to do, they're shitting themselves. They can go out there and play in front of 80,000 people and yet they're frightened to get up in front of 24 of their mates. So it's a great test of character for them, but they get up and do it." – John Terry.
Runner-up: "My view is that Gareth [Barry] should hang around another year. If we don't make the progress that he would want then he can move elsewhere. It's very obvious we value him more than Liverpool do. He's a top European player." – Martin O'Neill.
Today's overview: You know its a quiet day in the world of football when the sports' pages are dominated by articles covering the Tour de France and the future of Twenty20 cricket.
Faced with a drought, most of the papers (examples include The Sun, The Times and the Guardian) all splash with breaking news that Chelsea want to win all four competitions next season.
Tim Rich offers a slightly more substantial article, arguing that rumours suggesting Manchester United have cooled their interest in Berbatov are folly. Yet most of the comment surrounding Manchester United this Monday, served by Mark Ogden and James Ducker, looks at how South Africa coped with the Red Devils visit.
Domestically, Sam Wallace and John Percy join forces to claim Gareth Barry still wants to move to Anfield, while Colin Young reports that Kevin Keegan and the Newcastle board are heading for a showdown regarding the future of Joey Barton, who KK wants to keep at the Toon.
The standout article comes from Oliver Kay who, using the U19 European Championships as a backdrop, looks at the problems facing Premier League teams in investing in youth.
Other features include Jamie Redknapp's report on the safety of modern football boots, Mike Anstead lists "the greatest veteran outfield stars to have graced the Premier League," while Rob Hughes and Jon Cotterill both look at problems facing Messi and Dunga respectively at the Olympics.
Finally, the Guardian take a walk down memory lane, to coincide with the release of The Guardian Book of Football. Richard Williams writes on the genius of Brian Clough, Peter Shilton argues that Gordon Banks is up there with the greatest footballers ever and Eric Todd's brilliant interview with Bill Shankly is reproduced.
Tim Rich (Telegraph) argues that rumours suggesting Manchester United have cooled their interest in Berbatov are folly. "Were this Aug 28, the leaks.. might be a cause for concern. But the transfer window still has a month to run, United have been tracking the player for more than a year and Berbatov, who broke down in tears when United's last attempt to sign him failed, is desperate to move to Old Trafford. By making it clear he had other options – most notably Blackburn's Roque Santa Cruz, who has been aware of interest from United for six weeks and who could virtually double his salary at Ewood Park – Ferguson is making the Spurs Chairman Daniel Levy ponder the consequences of not dealing with him."
After spending time in South Africa with Manchester United, Mark Ogden (Guardian) questions whether the 2010 World Cup is achievable. "There is no shortage of issues surrounding South Africa's staging of football's premier competition. Crime, poor organisation, inadequate travel links, a shortage of hotels in key locations and the race to complete new stadiums have left even the Fifa president, Sepp Blatter, admitting a Plan B is required should the Rainbow Nation default between now and 2010."
The Times' James Ducker also picks up on the state of South Africa. "As United hopped from Cape Town to Durban and on to Johannesburg, they did so against a backdrop of half-finished stadiums, strikes and appalling crime that must have Fifa, the sport's world governing body, wondering why it awarded the tournament to South Africa… There were 18,487 murders in South Africa last year, 18,795 attempted murders, 210,104 assaults, 118,312 robberies, 36,190 rapes and 237,853 burglaries. Even accounting for such alarming figures, however, the greatest obstacle to South Africa staging a successful World Cup may prove to be the country's dire infrastructure."
Sam Wallace and John Percy (Independent) argue that Gareth Barry is still pushing for a move to Liverpool. "Barry could have been forgiven for having a moment of doubt about leaving when he was given a standing ovation in the second-leg victory over Odense, but the basic principle of his stance has not altered. He wants to play Champions League football next season at Liverpool or, failing that, at Arsenal. The £18m valuation placed upon him has given both clubs cause for doubt but it has not changed the way the player himself feels."
According to Colin Young (Daily Mail), Kevin Keegan and the Newcastle board are headed for a showdown regarding Joey Barton. "Owner Mike Ashley, after months of trying to offload the player and then cut his £71,000 per week wages, is resigned to having Barton back on his release from prison… Keegan's stance yesterday is believed to have surprised and infuriated the Newcastle board who have been trying to end Barton's Newcastle career or at least change the terms of his contract… The confrontation over Barton's future is the latest to rock St James' since Keegan was re-hired last season and guided the club away from relegation."
Using the U19 European Championships as a backdrop, Oliver Kay (The Times) looks at the problems facing Premier League teams in investing in youth. "Benitez could be sitting on the biggest goldmine in European football, but it could just easily prove to be the biggest scrapheap. Young players need nurturing, but at Liverpool there is a lot of bet-hedging going on. Other clubs import teenagers in large numbers – not least Arsenal, whose success with Cesc Fabregas, in particular, changed the philosophy in England with regard to developing young players – but none in anything like the quantities at Liverpool of late. For all the promise of Emiliano Insua, Krisztian Nemeth and Dani Pacheco, who, like Fabregas, was procured from Barcelona's academy, there is a recognition within the club that, at best, only a handful of those 27 will make the grade at Anfield."
In what comes across like a horrible publicity stunt, Jamie Redknapp (Daily Mail) talks about the safety of modern football boots. "I wore adidas, Mizuno and Nike in my playing career and I was involved in the original adidas Predator design, visiting their development centre and watching how the boots were put together. It has since become a truly big business. A new season brings new designs. I went shopping for my son, Charley, to buy his first boots. There is such a wide range from which to choose. Sportsmail asked me to test-drive the latest from the leading boot manufacturers. Protection has become a problem since lightweight boots replaced the clod-hopping footwear that felt like you were carrying half the pitch around with you. These are the boot manufacturers who agreed to take part in our experiment. Here's what we found…"
The Sun's Mike Anstead puts together a list of "the greatest veteran outfield stars to have graced the Premier League. Only those aged 38 and over on their swansong are included – but these guys all proved their quality until the very end." "No2: Gordon Strachan The ginger wizard became the first Premiership player to play into his 40s during his spell as player-manager of Coventry. Even at that grand old age, Strachan was still a key performer for the Sky Blues – and few believed his record would ever be broken."
Rob Hughes (IHT) reports on the storm brewing around Lionel Messi's participation at the Olympics. "FIFA states that any player under the age of 23 who is called by his country to play in the Games must go, whether he chooses to or not. But while Barcelona is pleading with FIFA to release Messi for at least one of its Champions League dates, other clubs in Germany have taken to the courts to fight FIFA's diktat. Messi is 21, and is on record as saying he had set his heart on helping Argentina retain the Olympic title won in Athens four years ago. But his heart is torn. Barcelona needs him in Europe at the same time that Argentina wants him in China, and Barcelona's pull on Messi's loyalty is uncommon because the club took care of him when he was diagnosed with growth hormone deficiency in his childhood."
Jon Cotterill (Goal.com) points out some of the problems facing Dunga ahead of the Olympics. "To his credit, Dunga did win the Copa America in 2007. But with the senior team's recent poor results, that has largely been forgotten. One of the major charges against Dunga is that he still doesn't appear to know what he's doing. The teams he puts out lack cohesion. After two years at the helm, the coach hasn't decided on a regular starting eleven. When Brazil go a goal down, confidence evaporates. With the Olympics, Dunga is on a hiding to nothing as he not only has to win the competition with an ever diminishing squad but he has to win it well. Almost certainly, he now wishes that he had taken the option to hand over the reins to a caretaker instead of walking the tightrope himself."
The Guardian takes a walk down memory lane, reproducing some of the best articles printed over the last 50 years, to coincide with the release of The Guardian Book of Football.
Richard Williams remembers the genius of Brian Clough. "Bungs or no bungs, what Cloughie did for Forest was nothing short of a miracle. He took an old and proud but stagnant club and, with the minimum of resources, lifted it to the pinnacle of European football for two years running. While a statue inside the City Ground and his name on a grandstand are the visible signs of his 18 years there, his enduring place in the hearts of supporters ensures that all his successors will be measured by his achievements."
Peter Shilton argues that Gordon Banks is up there with the greatest footballers ever. "I remember standing on the terraces and watching his first game for Leicester. The big thing I always admired about him was that he had terrific positional play. He would get into position before the ball was hit and his angles were so good that sometimes he would just stand there and catch it when other goalkeepers might have been diving full-stretch to make a save."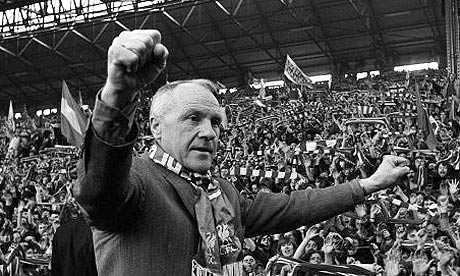 Finally, Eric Todd's brilliant interview with Bill Shankly is reproduced. "People often ask me if ah ever made a mistake. Well, tae my mind 'mistake' is a misused word, especially in fitba'. For example, ye might say it was a mistake for a club tae buy such an' such a player but that is nae necessarily true. The player might not be able tae settle down or to fit in. He might no' suit his environment. Just bad luck. A fitballer's no' like a hat or a coat that you can leave at a shop if it doesna' fit or suit ye."
Click here for more Premier League betting tips
---